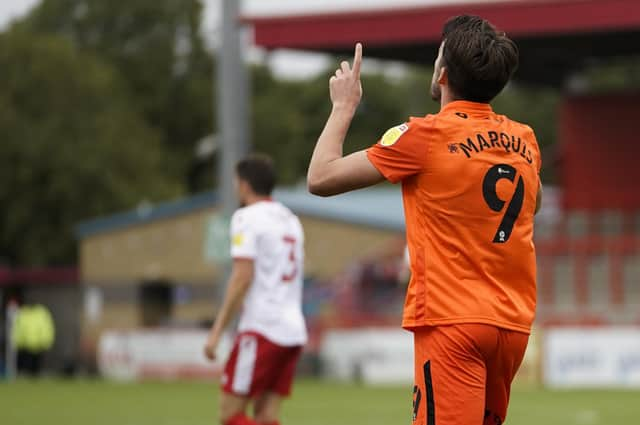 John Marquis celebrates his equaliser Picture: Jason Brown
'It was an exciting game to some degree, end to end and full of chances.
'Stevenage played well, they were a handful in the early part of the game. Coker has good delivery with his left foot and they have four or five very big lads and it was tough for us.
'We got to grips with it better as the game went on.
'Sean (Raggett) was disappointed with the first half when he got a shout, but it looked a bit of hesitation.
'The second and third goals were unenforced errors and ones we could have dealt with and we are disappointed with that.
'Similarly, though, we kept going, and got some good goals coming back.
'Ronan Curtis' was an excellent goal just inside the box on his right foot and the penalty on the stroke of half-time gave us some momentum for the second half and to have a good go.
'In the second half we looked the better side, found some rhythm, found some momentum and got an excellent goal from John Marquis.
'We couldn't quite get that winner, but it's nice to see us win a penalty shoot-out after Oxford.
'And some fantastic saves from Craig MacGillivray.'
Alex Revell – via The Comet
'It was a game of two halves for us. We asked the players to go out in the first half and show their intensity and we started really well to go 2-0 up.
'The first goal was a real quality goal from us and shows the way we want to play and the way we want to work it.
'The second was a bit scrappy but a really good start.
'But the goal just before half-time took the wind out of us a little bit. If we had come in at 3-1 it could have been a different story.
'We didn't get going in the second half but we got through the game because they are a great group and they want to work hard for each other.
'To lose on penalties is disappointing but there are some big positives and a few things we need to iron out.
'We have to put it in context. This is a team that nearly got to the Championship last year.
'It was really good game to start with because you need these types of game to see where you are at.
;The work we've done and the games we've had have all been learning curves and at times we played some good football.'
'Even though it's a cup game it's important to get the first win.
'It took us 25 minutes to get going and you could see it was our first game for a bit of time.
'They had a lot of energy and were probably looking forward to playing against Portsmouth, as most teams are when they play us.
'We knew they would tire. They've not had a competitive game for six months but they were good. They moved the ball well and had high energy.
'They tired in the second half but they gave us a good game, as they showed by taking us to penalties.'
Jordan Cross – News Pompey writer
Pompey emerged from their competitive opening to the season with many more questions than answers thanks to their shambolic parks defending at Stevenage.
Yes, the Blues advanced thanks to Craig MacGillivray's penalty shootout excellence.
But the manner of the first-half defensive capitulation to a side who only stayed in the Football League thanks to Macclesfield's points deductions, was beyond alarming.
It's no exaggeration to say I've never witnessed defending like it in 20 years of covering Pompey. In fact, never in a professional match.
It's a given Alex Bass will now be usurped by MacGillivray as No1, but it's how Pompey begin to address this deeply worrying performance at the back which is now under the microscope.