Why Portsmouth rivals Peterborough's swoop for emergency keeper has concerned Sunderland boss Lee Johnson
Pompey's promotion rivals Peterborough have been allowed to potentially strengthen their ranks by bringing in an emergency loan replacement for injured keeper Christy Pym.
Friday, 9th April 2021, 3:33 pm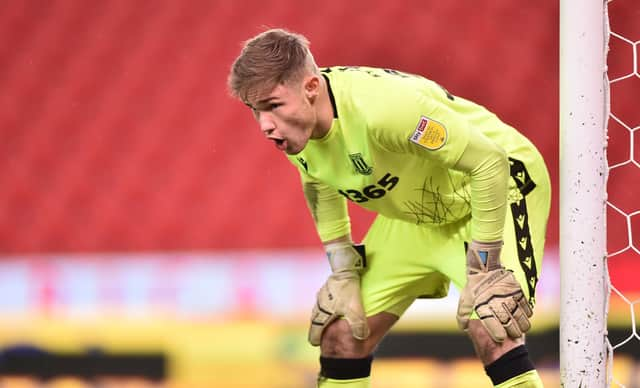 Stoke youngster Josef Bursik has been allowed to move to Peterborough on an emergency loan following an injury to Posh keeper Christy Pym. Picture: Nathan Stirk/Getty Images
That's a concern Sunderland boss Lee Johnson shared after he was asked about Posh's signing of Stoke's England under-21 stopper Josef Bursik for the remainder of the season.
The highly-rated 20-year-old made the switch following a muscular problem Pym suffered in the London Road side's 1-1 draw with the Black Cats on Monday – an injury that will see him miss United's final seven games of the campaign.
Manager Darren Ferguson already has inexperienced duo Daniel Gyollai and Will Blackmore in his ranks, along with 44-year-old goalkeeping coach, Mark Tyler, who is understood to be registered in a dual playing-coaching role.
However, the current second-placed team in League One were granted permission from the EFL to seek a replacement for Pym, freeing up the move for Bursik.
It's a deal which Johnson believes could potentially boost Posh's hopes of landing a top-two place in the division.
But he said the EFL's ruling in this instance had to be trusted.
The third-placed Black Cats are currently two points behind Peterborough in the table but with a game in hand.
According to the Northern Echo, Johnson said: 'They've certainly signed a good goalkeeper, arguably better than the one that got injured.
'They're both good goalkeepers – Pym is a good keeper, and the guy that's coming in from Stoke is very good as well.
'I don't think their squad or their team will be short.
'Obviously my immediate focus is on Sunderland, and if I'm honest, I don't know the ins and the outs there.
'I know the rules – and I would be very disappointed if any club in this division was able to wrangle the rules, whether that be a Covid situation or an emergency loan situation like this.
'I think the goalkeeper-coach has been registered, and you get a benefit from that.
'We did it at Oldham, where we would use that benefit because the player gets pension money from the PFA and stuff like that. It's a way of bumping up their wage, so there has to be a consideration for that.
'Really, you just have to trust the EFL and the process of what's gone on.
'What can I do about it? Whether it's right or whether it's wrong, I can't go and sign a top centre-half, for example, and play him, so for us, it's about maintaining focus on our solid performances and trying to build on those.'
In January, Pompey brought in Exeter keeper Lewis Ward on loan following an injury to back-up keeper Alex Bass.
That was despite having Duncan Turnbull and Seymour Taylor in their ranks and available to act as cover.
However, the move was completed during the transfer window as the Blues refused to take a chance on future availability of their keepers.
The fourth-placed Blues are currently nine points adrift of Peterborough in the table with a game in hand.