Why tearing up League One squad size restrictions is 'best news of all' for Portsmouth, Sunderland, Charlton, Ipswich and Co
It wasn't merely the removal of the Football League salary cap which appeased its arch critics.
Thursday, 11th February 2021, 6:30 am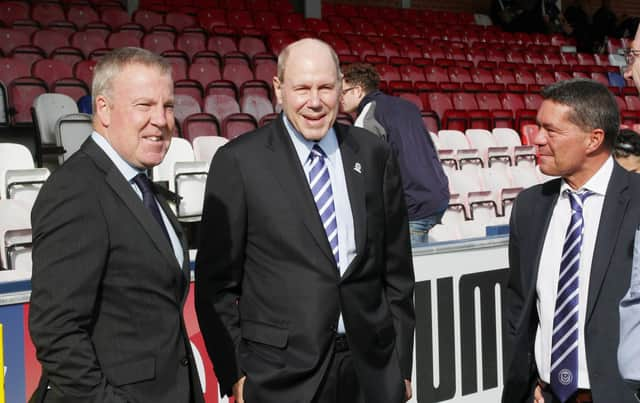 Mark Catlin believes the removal of squad size restrictions can benefit Pompey's team building under Kenny Jackett and chairman Michael Eisner. Picture: Joe Pepler/Digital South
There is also the ditching of the loathed squad size restrictions, presently limiting League One and League Two clubs to 22 senior players.
According to legislation which came into effect in August 2020, the 2021-22 campaign would then see squad sizes below the Championship reduced to 21.
By 2022-23, it was scheduled to be 20 – of which two would be goalkeepers.
Now, along with the salary cap, that regulation has been torn up.
Catlin told The News: 'I can't profess to be jumping up and down in anger saying "We wanted to sign this player, we wanted to sign that player and the salary cap stopped us".
'There were some instances, but on the whole we are very pleased with the signings that we made. Salary cap or not, we will continue to work on a self-sustaining model.
'The removal of the cap gets rid of the squad size as well, which is probably the best news of all.
'The larger clubs, who can afford to carry bigger squads and invest in players of the future, can now continue to do that.
'And two seasons it was meant to be going down to 20 players. Now that is tough.
'Over a period of time maybe 22 squad size might be the right thing and that is fair. But to go down to 20 I think is very low, especially when two of those are keepers.
'You are working on a very limited squad size, yet part of your model is to bring players in to develop them.
'It's tough doing that on a limited squad size because you can't name them in your squad.'
This term, League One and League Two clubs have been operating to a 22-man squad.
However, players aged below 20 are exempt and not counted in that tally.
As a consequence, there are fewer employment opportunities for footballers – a matter the PFA objected to.
Catlin added: 'That's where I believe the EFL argument was flawed.
'The whole basis of the PFA going to arbitration was the rule which said it has a material impact on players contracts, salaries.
'The EFL said it didn't – but quite clearly it did.'
A message from the Editor, Mark Waldron
The News has launched a new subscription offer which gives you unlimited access to all of our Pompey coverage, starting at less than £1 a week.