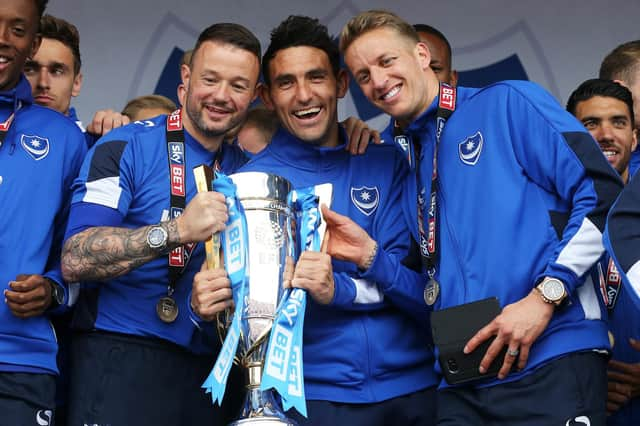 Gary Roberts (centre) is flanked by Noel Hunt and Carl Baker during Southsea Common celebrations after winning the League Two title in May 2017. Picture: Joe Pepler
Barely three months after being part of the triumphant Pompey side which claimed the League Two title, the midfielder departed in August 2017.
Having been instructed to train with the Academy by new boss Kenny Jackett, Roberts reached a mutual agreement to cancel his contract.
He joined Wigan, where he proceeded to win the League One title and so far make 66 appearances, scoring three times.
Interviewed in new book Played Up Pompey Three, he finally gives his side to an emotional Pompey exit.
And Roberts could feature for the newly-relegated Latics on Saturday when they visit the Blues in League One action.
'In August 2017, it was time to leave Pompey and I was devastated, absolutely gutted,' he told Played Up Pompey Three.
'There was so much anger inside me at that time that I didn't want to give a farewell interview to The News until I had calmed down. I thought I deserved more respect after what I had achieved at the Pompey, but it doesn't really work like that.
'On the first day of pre-season, I went in to see our new manager, Kenny Jackett. By all accounts, he had already rung up five or six of the lads telling them they were part of his plans and he was looking forward to working with them.
'Now I thought I'd introduce myself. Kenny said he had watched games from the previous season and I had played well. He was looking forward to working with me – 'Thanks for coming to see me'.
'Well, the rumours were I would be the first to go, being a Paul Cook signing, but I felt reassured.
'Our first pre-season fixture was at Salisbury, where 22 players were used, including me, with each of us handed 45 minutes of match action in a 3-0 victory. A few days later and I was training away from the first-team, without a word spoken by the manager.
'It began with his assistant, Joe Gallen, informing me I'd be training with the fitness coach away from everybody else. When I inquired why, he replied 'I'm just passing the message on from the manager'.
'I asked 'Have I done something wrong?'. Apparently I hadn't – yet it went from there.
'My pre-season routine became being in the gym on my own, training with the kids or working with Academy coach Shaun North on a few occasions, with Michael Smith also there among four of us.
'Listen, it happens, it does happen, but it's still not nice and that was the first time in my career I'd experienced it, so I was going home and beating myself up.
'Barely three months earlier we were on Southsea Common celebrating the League Two title, now I was being treated badly – and that was also the opinion of others at the club.
'Eventually, I was made an offer to leave the club. I didn't want to go, I was being forced out of Pompey with 12 months remaining on my contract. They were offering me money to walk away, but I rejected it – I was staying.
'There was interest from others, such as Crawley and AFC Wimbledon, but I wasn't prepared to leave this great club to go to them. I had worked hard my entire career to get to Fratton Park.
'Then Wigan Athletic came in – and I couldn't turn that down.
'When I returned to Fratton Park, with Wigan in April 2018, I appeared as a substitute for the final nine minutes in our 2-1 defeat and the reception from supporters choked me.
'It was sour how it ended and devastating for my family. It's football, it's understandable, but it was tough to take.'
Played Up Pompey Three is priced £18.99 and currently available from the Pompey Store, in Anson Road, and The Petersfield Bookshop.
For player-autographed copies, with the signatures of Benjani, Richard Hughes, Michael Doyle, John Durnin or Dave Munks, email [email protected]
A message from the Editor, Mark Waldron
Thank you for reading this story. The News has launched a new subscription offer which gives you unlimited access to all of our Pompey coverage.
Every subscription helps us continue providing trusted, local journalism on your behalf for our city.