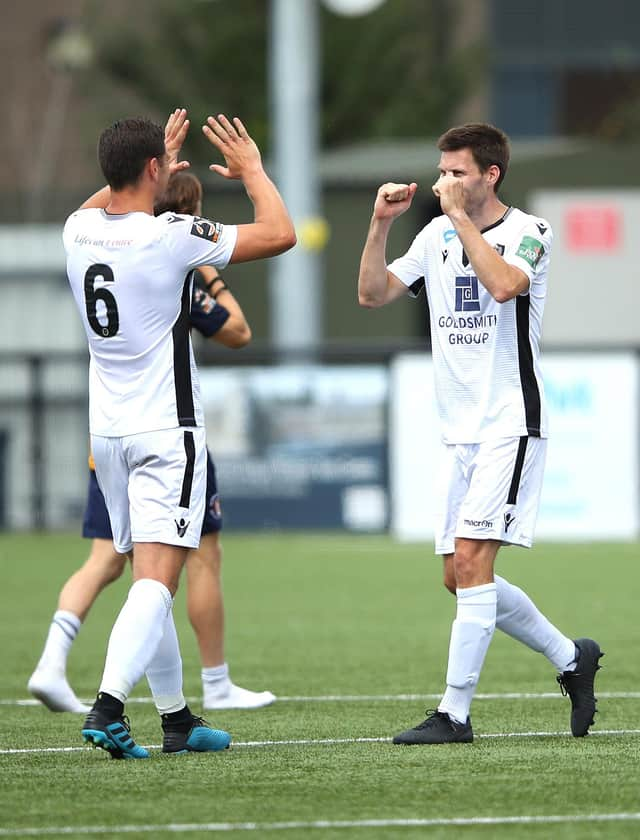 Charlie Sheringham, right, celebrates with Dartford skipper Tom Bonner at the final whistle of Sunday's play-off win at Slough. Photo by Warren Little/Getty Images.
The son of ex-Pompey star Teddy struck the first two goals as the Darts romped to a 3-0 victory at Slough Town on Sunday.
Sub Luke Wanadio completed the scoring late on as the Kent club won for the 15 time in 23 league games since Steve King took over last October.
Sheringham, 32, was playing for Isthmian League Premier Division club Leatherhead on a dual registration when 2019/20 was halted in mid-March.
But the striker's attitude in training recently persuaded King to restore him to the squad.
Sheringham – now in his third spell with Dartford - responded with the only goal in a friendly win against National League side Boreham Wood on July 11.
And as a result he kept his place at Slough as the central striker, with 16-goal pair Elliott Romain and Darren McQueen flanking him either side.
Sheringham's two close range finishes swung the game Dartford's way after a goalless opening half at Arbour Park.
'They (Romain and McQueen) have scored some blinding goals, but they won't score those tap-ins, Charlie does,' said King.
'That is why we brought him back.
'I said to him when he came back after the lockdown that I don't have favourites. The way he has come back, the attitude he has shown, the willingness, he listens.
'He has shown a good attitude. He started the second half against Boreham Wood and occupied the two centre halves, getting it and knocking it wide, and getting himself in the box and he scored a fantastic goal and I thought, 'ooh, we may need that'.
'He can win fouls, he takes one touch then sets, the others take a touch and a touch and the whole picture changes. Whoever decided to bring Charlie back in was a great move!'
Sheringham first played for Dartford in 2010/11, after which he was signed by Eddie Howe for AFC Bournemouth. He returned to the Darts on loan in 2012/13 shortly before being released by the Cherries.
King, meanwhile, certainly won't be concerned about his team having to travel again in the semi-finals.
The Darts away record since he was appointed in early October is impressive indeed.
Including Sunday's win at Slough, King has won eight of his 11 away league games in charge.
His only losses were a 3-0 setback at Bath on November 30 and a 1-0 loss at Slough on January 18.
Hawks had the lowest points haul of any of the teams taking part in the South play-offs, with just eight wins from 17 games and five losses.
But Paul Doswell's men ended 2019/20 with two successive home wins - 1-0 against Slough and 2-0 against Hampton & Richmond.
That was only the second time in the season the Hawks had won two home league games in a row.
Hawks drew at Dartford 1-1 in the third game of the season, but did not face them at Westleigh Park.
They were due to meet on March 21, but that was the first weekend of what proved to be a total lockdown of football in England until the Premier League restarted in June.