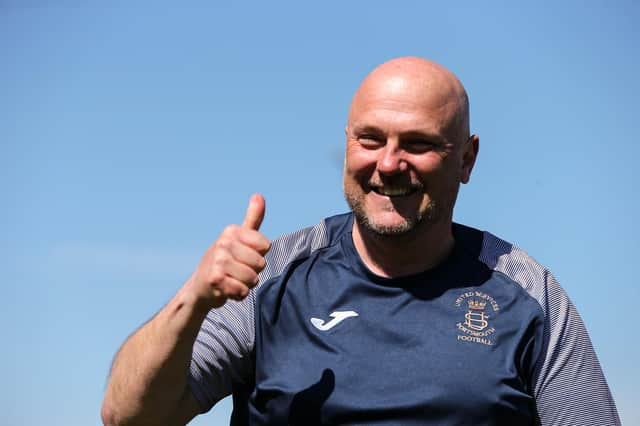 Thumbs up - US Portsmouth boss Glenn Turnbull after last weekend's penalty shoot-out win against Christchurch. Picture: Chris Moorhouse
But now US Portsmouth are preparing to be asked the toughest question they have faced in six FA Vase rounds in this record-breaking 2020/21 season: can you do it on a sunny spring afternoon in the depths of the west country, on the edge of Dartmoor? And, yes, against higher division opponents.
It's a question we will know the answer to around 5pm on Saturday. Either the USP bandwagon will have rolled on, incredibly, into the quarter-finals of a national cup competition, or their Wembley dream will have died in the town where Sir Francis Drake - Tavistock's greatest son - was born.
Tavistock are no mugs; top of the Western League Premier last season, prior to the null and voiding, and second this season (prior to curtailing. The only team above them in 2020/21 was the one who was second to them in 2019/20, Plymouth Parkway. Yes, the same Parkway that could await USP in the last eight.
Well, no-one ever said getting to a major Wembley final was simple, did they?
'You don't get to the last 16 of a national cup competition where over 600 clubs entered and get an easy game,' said US boss Glenn Turnbull
'I just hope we can go down there and play the way I know we can play - that's all you can hope for.
'If our big six or seven players are all firing, if they're an eight out of 10 or better, they might not be able to live with us. I am sure their manager will be saying the same about his players.'
USP had been hopeful of staying in Plymouth on Friday night, but were unable to find accommodation. 'Though the Vase is seen as an elite sporting competition, we're not an elite club,' said Turnbull.'
As a result, US will be leaving Portsmouth at 8am for their date with destiny 160 miles away in west Devon. Due to the early start, their coach bill is around £1,400.
Turnbull said not staying overnight could be a blessing.
'The biggest challenge for myself, Fraser (Quirke) and Barto (Paul Barton) will be calming the players down, rather than firing them up for the occasion.
'The aim will be trying to keep their feet on the floor. I said to Caino (defender Tom Cain) last week that he was like a kid on December 22nd.
'I had visions of being woken up at 4am by the hotel manager saying could the players keep the noise down because they were playing a FIFA competition!'
USP's record-breaking run - the club had never previously been beyond the second round - has taken everyone at the Victory Stadium by surprise.
'If you'd offered me the last 16 when we got drawn away to Portchester in the first game, I'd have ripped your arm off,' said Turnbull.
'But we've deserved it, we've haven't been lucky by any stretch of the imagination.
'Luck might get you through one or two rounds, but you don't get to the last 16 on luck. And we haven't had any gimmees - Millbrook think they're a match for higher division clubs, Christchurch should be a Southern League club, Portchester think the same.'
The manager is revelling in a cup run which could well be the stuff of 'once in a lifetime' tales.
'I've been asked to go on national radio, that's not normal for a bloke from Portsmouth Dockyard,' he said.
'Last Saturday wasn't normal, you could tell that. Not bad for a big bus stop in Gunwharf!
'I wouldn't mind another four more Saturdays like the last one!'
Midfielder Jordan Pile could return to the 18-strong matchday squad after missing the win over Christchurch through a one-game suspension.
But defender Owen Haly - who was on the bench last weekend - is out after suffering a ligament injury in Tuesday's Hampshire Invitation Cup loss to Petersfield.
Defenders Liam Kyle and John Cass are also hoping to be involved; due to having been working away, and missing out on tactics prep in midweek training, they were left out last weekend.
One factor USP won't have to deal with is a partisan home support, of a sort you would often normally get at this stage of the competition. That could be to their advantage.
'I was speaking to Ben Kneller and he said when he was at Hamble Club they played at Windsor (Vase fifth round, 2018/19) and there was a crowd of around 700,' Turnbull explained.
'Ben said because they were used to playing in front of two men and a dog the game bypassed some of their best players in the first 30 minutes.
'People have said to us Tavistock's support can be quite vocal, but that's not going to happen this time.'