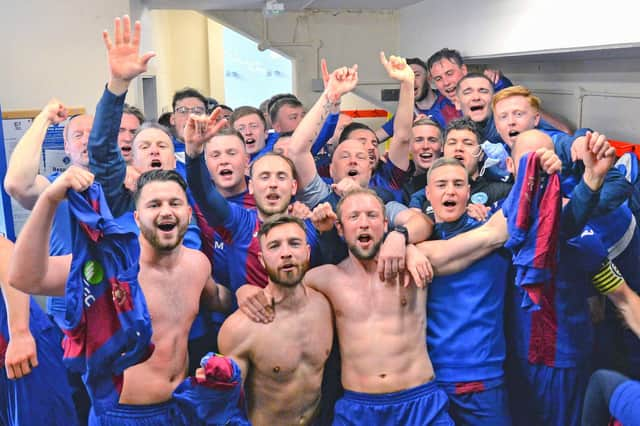 US Portsmouth players celebrate after their FA Vase victory over Christchurtch. Picture: Martyn White.
A total of 612 clubs from steps 5 and 6 of the non-league football pyramid entered this season's tournament. Following their dramatic penalty shoot-out victory over Christchurch at the weekend, US are now one of the last 16 remaining.
Of those 16, Glenn Turnbull's men are one of just two from step 6 left dreaming of a Wembley final on May 22. The other is North Ferriby FC, a phoenix club formed out of the ashes of the North Ferriby United that had won the FA Trophy in 2015 and who played in the top tier of non-league football as recently as 2016/17.
It is a major achievement for a step 6 club to reach the fifth round of the Vase. Only one club reached it in 2019/20 and 2017/18, and none at all in 2018/19.
US Portsmouth celebrate their FA Vase victory over Christchurch. Picture: Martyn White.
Since Sholing won the trophy in 2014, only four clubs from the Wessex League reached the fifth round in the subsequent five seasons. Of those, Salisbury (2015/16) and Sholing again (2018/19) were Premier Division champions in the same campaign. The others, Team Solent and Hamble Club, were also Premier clubs.
US Portsmouth are a Wessex League Division 1 club, and are the only team from the second tier of the Wessex to ever reach the fourth round of the Vase, let alone the last 16.
Amongst Portsmouth area clubs, only two have ever progressed further than US have now reached.
Gosport Borough reached the quarter-finals in 1976/77 and 2003/04, while Havant Town reached the last eight in 1985/86. The latter was a particularly remarkable run, progressing through seven rounds after starting out at the extra preliminary round stage.
Baffins Milton reached the fourth round in 2018/19, while the best Horndean (23 seasons), Fareham Town (23 seasons) and AFC Portchester (11 seasons) have managed is the third round.
'It is a remarkable achievement, and we want to keep it going,' said Turnbull after US had made Christchurch their fourth Wessex Premier scalp of this season's Vase competition.
'I don't want this to end in the last 16 - we're only three games away (from a Wembley final) now.
'I said it last week, but games against Totton & Eling, East Cowes Vics, Laverstock, are week in week out, year in year out.
'This is something that will stick in people's minds forever - the celebrations after, inviting a photographer into the dressing room.
'I don't normally get four cans of lager poured over my head!
'It's silly things like all the officials being mic-ed up, having to fill out cards when you make a sub - different things.'
Prior to this season, US had only won six Vase ties in 16 seasons. Win at Tavistock next Saturday and they've won the same amount in 2020/21. Prior to this season, the furthest the club had reached was the second round. Win in Devon and they've gone four rounds further - and will have beaten five higher division clubs on the way.
Turnbull is good friends with Graeme Gee, who was assistant boss at Chichester City when the west Sussex club, from the fourth tier of non-league, enjoyed a fairytale run to the second round of the FA Cup last season.
This Vase run is USP's equivalent fairytale, with Wembley now coming into view on the horizon.
'Graeme messaged me to say 'keep it going' - talking to people like him has been really helpful,' said Turnbull.
'He just said make sure the journey doesn't stop in Devon, make sure it rolls on.
'You just want to keep this going for as long as you can.
'I'm looking forward to an away trip - it's all part of the experience. When we do go down, do we go in cars or do we hire a coach?
'I don't want to end up feeling like Millbrook felt when they came to us, or how Christchurch felt, but it is what it is …'
US skipper Tom Jeffes said Westfields' fourth round exit at the weekend is another illustration of the scale of his club's achievement.
'We played Westfields in pre-season and they gave us an absolute footballing lesson,' he recalled. 'The fact they've now gone out shows the quality and the calibre of the teams left in.
'We won't under-estimate anybody - it's very important to say that - but our confidence is high, we're a confident side.
'If we're on our game, we're a match for anyone - that's clear to see from our results so far. If we apply our principles, we've got as good a chance as anyone.'