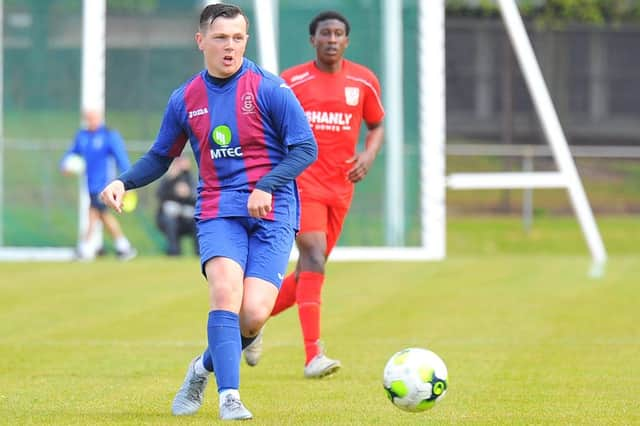 Callum Glen in action for US Portsmouth during their FA Vase quarter-final win against Flackwell Heath. He was back out playing in the City of Portsmouth Sunday League for Milton Rovers this morning. Picture: Martyn White.
For there, playing for Milton Rovers, was one of the players who had helped his US Portsmouth underdogs write another remarkable chapter in their FA Vase story just 17 and a half hours earlier.
After his starring role in a 2-0 home win over higher division Flackwell Heath, another startling triumph which moved USP to within 90 minutes of a national cup final, Callum Glen was turning out in a City of Portsmouth Sunday League fixture against North End Cosmos.
Another one of USP's Vase heroes, striker Dec Seiden, was on the Milton bench.
US Portsmouth celebrate after beating Flackwell Heath. Picture: Stuart Martin
Turnbull was watching the game when I phoned him to talk about the latest incredible instalment of a footballing tale which could well go down as one of the most remarkable in non-league football history.
Beat Binfield at the Victory Stadium next weekend and US Portsmouth Football Club - after winning six FA Vase ties in 16 seasons - would have won eight in as many months. Seven of those eight, on a thrilling march to the arch, would have been against higher division opposition.
Beat Binfield next weekend and US Portsmouth, from Division 1 of the Wessex League, from the 10th tier of English football, would take their place in the 2020/21 FA Vase final at English football's Holy Grail, Wembley.
Not many players, having just put in an energy-sapping 90-minute shift in the biggest game of their entire career, would be up the next morning pulling on their boots again.
US Portsmouth celebrate after beating Flackwell Heath. Picture: Stuart Martin
But Glen's appearance this morning, in a way, sums up his club's astonishing Vase run. Here, within touching distance of Wembley, is an amateur club in the true sense of the word (the FA Amateur Cup being the predecessor of the Vase).
While rival clubs sign players from the higher divisions to boost their chances, here is Turnbull - heart-warmingly - keeping faith in the squad which has been furiously rewriting the record books on a weekly basis since lockdown restrictions were eased.
'I didn't even know Cally Glen was playing,' said Turnbull. 'I just turned up to watch and thought 'what's he doing playing?'
'I guarantee you Binfield's players won't be playing Sunday football today.
'Dec Seiden's on the bench, Harry Bedford's here on his crutches.
'There's some nutcases in our squad … and bear in mind we didn't leave the Moneyfields club until twenty to one in the morning.
'Cally Glen's here singing 'Wembley' while he's playing - that sums up Sunday football for you!'
While Turnbull was watching Glen play for the second day in two days, albeit with slightly less pressure second time around, his thoughts were drifting from the P04 postcode he was standing in to the HA9 one that tantalisingly beckons.
He knows Binfield will provide even tougher opposition than Flackwell Heath did, but also concedes US need to do some serious pre-Wembley prep.
'Binfield had a cracking result (they beat Long Eaton 5-0 away in their quarter final), they'll be favourites by a country mile.
'I don't want to be lairy, and we'll be 100 per cent focussed on the Binfield game rather than the one after it, but you've also got to have one eye on what you'll need in place (if US get to Wembley).
'If we don't start thinking about it - when do we travel up, do we order a new kit? - then we'll be under-prepared.
'We'd have to go up on the Friday for a stadium tour, otherwise the players would be going there on the Saturday as fans, thinking about sitting where Wayne Rooney sat rather than focussing on what they can do.
'It's going to be a strange week, for sure.
'It's been a few strange weeks. It's been tiring, but in a different way. We know it's not your Totton & Eling, it's not your run-of-the-mill stuff.
'The reaction from everyone has been unbelievable, it's been ramping up by the week. I don't think too many can really believe it.
'Harry Birmingham said when he walked into The Delme Arms everyone stood up and applauded him. You don't get that sort of thing everyday.
'The players are loving it, it's something different.
'These really are amateurs - they pay to sign on at the start of the season and some are here now playing Sunday football.'
Liam Ferdinand won't have been playing Sunday League yesterday.
Having spent the first half of the 2020/21 season playing for step 3 club Harrow Borough - in the same Southern League Premier division as Gosport Borough - he was dual signed by Binfield a few weeks ago to boost their Vase prospects.
Ferdinand, who used to play for the Berkshire club, netted a hat-trick in the thrashing of Long Eaton and will undoubtedly pose a big threat to USP's Wembley dream.
But USP have kept step 3 players quiet in previous rounds, and did the same again at the weekend.
'Someone from Flackwell told me they'd signed players from step 2 and step 3 football,' Turnbull revealed.
'The lad up front (Mitchell) Parker, he was very, very good.
'They were a good side. They were nice and polite beforehand, almost certainly because they thought they were going to win - like everyone else we've played.
'They were the best side we've played by a mile. They were on a different level to Christchurch.
'I've been asked if I would sign players on (from a higher level).
'I don't know if (Steve) Hutchings (Moneyfields striker) would come and play for nothing just to get a can of beer sprayed over his head, but I wouldn't do it.
'One, it wouldn't be fair to my players and, two, it wouldn't be fair to the competition. But they're all doing it - Christchurch had a couple, Tavistock brought in a couple.
'We said to the players afterwards, 'they had step 2 and step 3 players - that's your level now, that's what you're capable of when you don't think about things, when you just go out and play.'