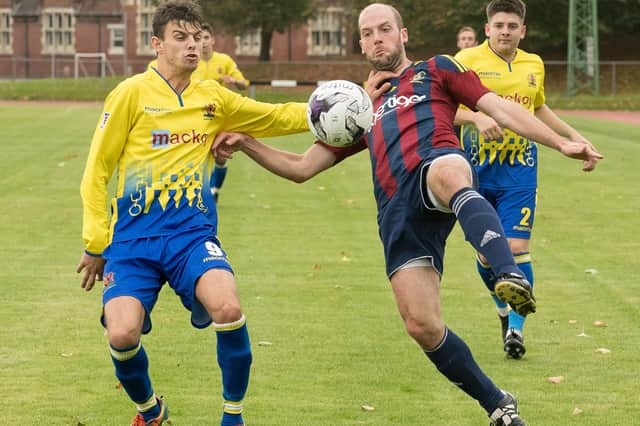 US Portsmouth skipper Tom Jeffes, right. Picture: Keith Woodland
The US Portsmouth captain will be aiming to help his side to another shock win against Wessex League Premier Division opposition when they take on his former club Christchurch in the fourth round on Saturday (noon).
But Jeffes' desire to take another huge step towards Wembley runs deeper than just reaching the fifth round … he is also attempting to knock out two of his building and property company work colleagues who play for Priory.
The banter has been flying between Christchurch pair Ben Satterley and Harvey Wright and Jeffes due to the long wait to play the last 32 tie due to the nationwide lockdown.
Jeffes says there will be no joking if his side are dumped out - and no escaping the ribbing from his colleagues. He can also expect some comments from Christchurch manager Ollie Cherett, a sales manager at the builders merchants where Jeffes' company regularly buy work materials!
Jeffes, a former Christchurch player, explained: 'Two of their lads work for us and I know Ollie and Harty (Chris Hart), their assistant manager, really well.
'This one is personal, it's not just football.
'I've got to win the game, otherwise I'm not going to live it down for a few months after.
'Funnily enough, Ollie is a regional sales manager for Gibbs & Dandy, which is a building suppliers so we buy a lot of our materials off him.
'I might have to say to him if they beat us I'll have to go elsewhere!
'It's a funny old world with the way it works.
'There has been a bit actually (pre-match banter).
'Ollie texted me the other day and said we needed to have a chat about the game that was coming up. I said we could chat in a couple of weeks ...
'There is a lot riding on it.'
Jeffes has skippered USP to the fourth round of the Vase for the first time in the club's history.
They have already claimed the scalps of three Wessex League Premier clubs in the competition this term, beating AFC Portchester, Bournemouth Poppies and Brockenhurst.
Now Glenn Turnbull's Wessex Division 1 outfit are eyeing another shock win, and Jeffes will be telling the squad not to treat this tie any differently.
He added: 'When you look at the resources and what we've got, to be in the fourth round of the Vase is really special.
'But, equally, we've fully deserved it. We've beaten teams from higher leagues.
'As much as Saturday is a big game in the fourth round, we've got to see it as just another game in the competition from that regard.'
Jeffes will line up at the heart of a three-man central defence in a 3-5-2 system against Christchurch this weekend.
But he was signed by Priory from Hamworthy United in 2009 as a striker, and in his first season at the club bagged 21 goals.