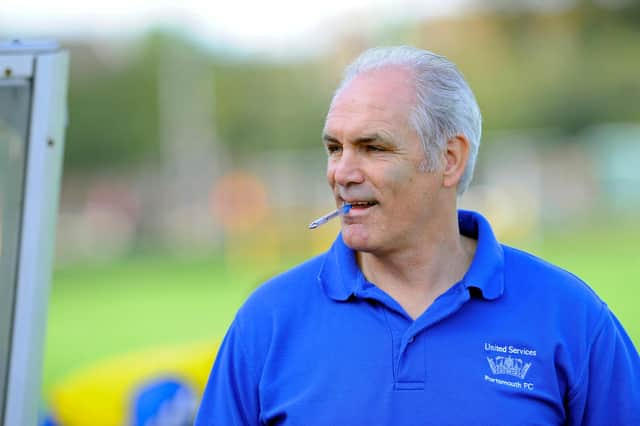 US Portsmouth secretary Bob Brady. Picture: Malcolm Wells
The FA yesterday revealed they are planning to promote 110 clubs in a close-season restructure at the lower end of the non-league pyramid.
Of those, 60 will be promoted from step 6 divisions - including the top three in Division 1 of the Wessex League ranked on a points-per-game basis over the last two pandemic-wrecked campaigns.
USP boast the best PPG average in the division - 2.23 - during that time and Brady is adamant the club will accept promotion if and when it's offered.
He believes there should be no repeat of the 2009/10 season when US finished third in Wessex 1 only to see the Victory Stadium fail the ground grading examination for the higher tier.
'It's fantastic news,' he said of the promotion opportunity. 'If we meet the ground grading.
'Our lights are good enough, our pitch is good enough. The Royal Navy play on it and they're step 3-4 level.
'We meet the Wessex League minimum standards anyway just by playing in the FA Cup and FA Vase, so it is a bit frustrating.
'We had a ground grading last year but now we'll need another one.
'We'll have to put in temporary walkways from the changing rooms to the pitch, and a few other things.'
US erected a secure hut at their ground late last year, which was another league requirement in lieu of the fact the Navy won't allow them to install a permanent turnstile.
It was in use for the Vase tie against Millbrook on December 19 – the club's last competitive match.
'That was a major key for us,' said Brady, a former US player and manager who is now the club's secretary. 'That was the only permanent thing we needed, everywhere else - like the walkways - can be temporary changes on matchdays.
'We are quietly confident we will be offered it (promotion).
'It should be a case of a quick inspection and hopefully all boxes will be ticked.'
US - under the guise of predecessors Portsmouth Royal Navy - were founder members of the Wessex League in 1986. But, since re-entering the league in the early noughties as US, they have always played in the second tier.