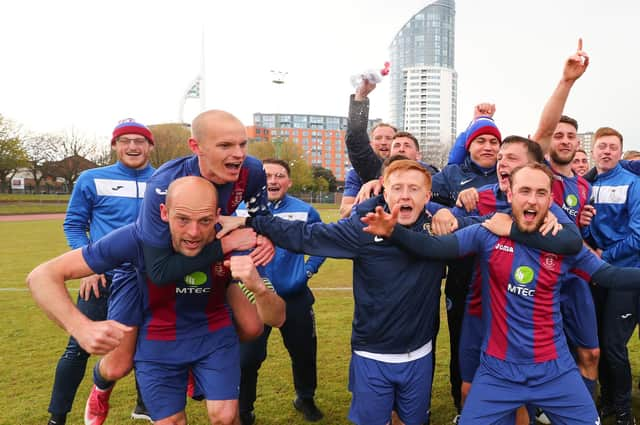 Tom Jeffes, left, gives Harry Birmingham a piggyback after US Portsmouth's FA Vase victory against Flackwell Heath. Picture: Stuart Martin
Fortunately for the skipper, USP's 2-0 quarter-final win over Flackwell Heath at the Victory Stadium fell the day before his brother Chris's wedding.
With the occasion already rearranged twice because of the pandemic, Jeffes admitted his best man duties would have been shelved had USP's history-making tie taken place on the same day.
Thankfully, the hugely influential skipper was not forced to make a tough choice with the dates working in his favour.
But he might have to avoid the wedding photos because of the black eye he's sporting after an early clash against Flackwell.
Jeffes said: 'The question came up if the wedding was on Saturday where would I be and I told him not to ask me the question because you know what the answer was going to be.
'He's moved it twice because of Covid anyway and I think he knows that football comes first.
'We're lucky we didn't have to have that awkward conversation because I would have been playing football. The wedding would have had to have been an evening appearance or something like that.
'I'm on best man duties. I've just finished my speech and printed it all off.
'I've got a black eye. It was probably from about 20 minutes I was chasing their striker, he caught me and I honestly thought that was it for me. It wasn't too painful but I just couldn't see out of my eye.
'It's not a bad black eye but it's very, very obvious - I've had to add it into the speech as well.'
US Portsmouth now stand just one win away from a Wembley final with Hellenic League Premier side Binfield their last-four opponents.
James Franklyn's superb first-half lob and Harry Sargeant's late header sealed a stunning win over Flackwell.
And Jeffes could not have been more proud of the whole team as USP defeated step 5 opposition for the sixth time in seven history-shredding Vase rounds.
He said: 'It's just unbelievable. We're just taking it week by week and every week we're getting a step closer to where you want to be.
'I know I say it every week, but I was just so proud of the boys again.
'If you look at our squad, take me, Sweeney (Andrew Todd) and Pricey (Tom Price) out - I know Josh (Hazell) is probably 28 - but everyone else is 23 and under.
'You look at some of those yesterday and they just played the game as if it was a normal game on a Tuesday night with nothing riding on it.
'There were some absolute standout performances and when you get to this stage of the competition it's not always your big players who you need to perform.
'Glenn (Turnbull) said before the game he needed everyone as a seven or eight out of 10, and I think most of the lads were an eight or nine.'