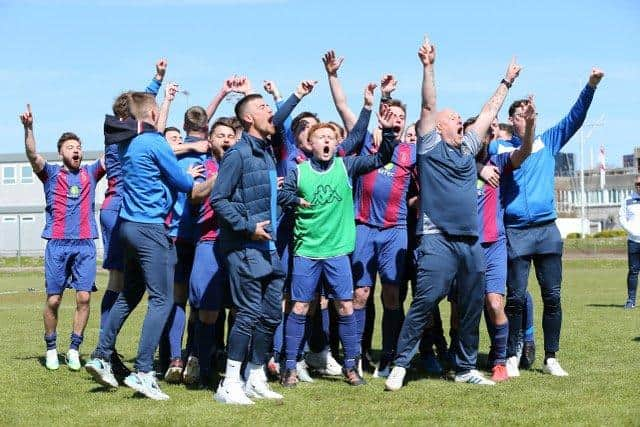 US Portsmouth celebrate their victory
For the fourth time in five FA Vase rounds, US defeated higher tier opposition from the Premier Division of the Wessex League.
This time it was Christchurch who were dumped out by Glenn Turnbull's history-making team who now progress to the last 16 and a trip to Western League Premier side Tavistock next Saturday.
After a 1-1 draw at the Victory Stadium, US - from Division 1 of the Wessex - kept their nerve to win 4-1 on penalties to spark jubilant scenes among the home players and officials.
Christchurch are vastly experienced in shoot-outs - this was amazingly their fifth in 2020/21 and they had won three of their first four.
But this time Priory missed their first two spot-kicks.
After Andy Todd had given US first blood in the shoot-out, Ash Pope fired his penalty over the bar. Then, after Dec Seiden had put the hosts 2-0 ahead, Billy Walker's spot-kick was saved by Tom Price diving low to his right.
Price hammered his spot-kick past Lewis Gunstone-Gray to put US 3-0 up before Christchurch finally got on the scoresheet through Mickey Finch.
But that just left Jeffes - who played for Christchurch over a decade ago - to confidently convert his penalty and extend US' record-breaking run.
Prior to this season, the club had won only six Vase ties in 16 seasons; this was their fifth of 2020/21 and their most impressive yet considering Christchurch boast the best Wessex Premier points-per-game record over the last two pandemic-wrecked campaigns.
Earlier, US had taken a 22nd minute lead when top scorer James Franklyn collected a Harry Sargeant pass and ran on to beat Gunstone-Gray with a low shot.
That was US' first on-target effort with Christchurch having had the clearest opening previously - striker Will Fletcher, unmarked eight yards out, sending a header just wide.
Price made a fine double stop to preserve US' lead on 38 minutes, first beating out a Nick Swann shot and then saving Pope's follow up with his feet.
Christchurch stepped up the pressure in the second half and it was no real surprise when they levelled just after the hour mark.
Priory pressing forced US to needlessly lose possession in defence and Ben Satterley lashed a shot from just inside the area into the roof of Price's net.
The visitors continued to look the fitter side, with US struggling at times to get the ball out of their own half.
But clear chances were at a premium as the tie ticked towards penalties - there is no extra time in any Vase round this season.
There was late drama when Todd was clearly bundled over by Keiron Douglas inside the penalty area two minutes left. It was a stonewall penalty but, remarkably, referee Gary Parsons waved play on.
US would have every right to feel aggrieved had they lost the resultant penalty.
But as it was, the sight of Jeffes wheeling away before disappearing under a mass of celebrating bodies was proof positive that this wonderful cup run is not over yet.
USP: Price, Cain (Harnett-Balkwill, 70), Birmingham, Jeffes, Chandler, Hazell (Turnbull, 87), Sergeant, Glenn, Franklyn (Quirke, 90), Todd, Seiden.
Christchurch: Gunstone-Gray, Wright, Hill, Douglas, Walker, Cherrett, B Satterley, Swann (Graham, 87), Pope, Fletcher (Finch, 76), Delaney.