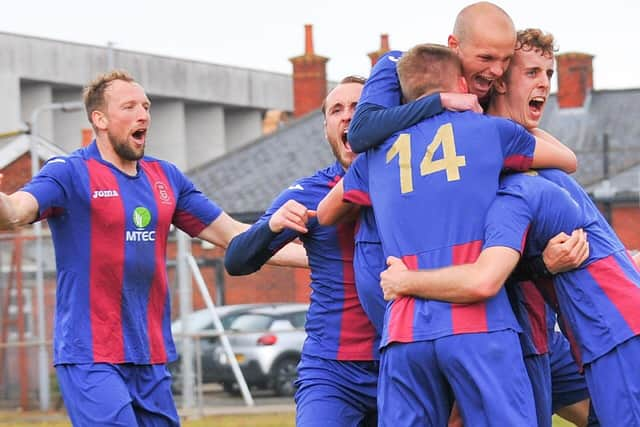 Harry Birmingham (second right) celebrates after US Portsmouth scored a late second goal in their Vase quarter-final win against Flackwell Heath. Picture: Martyn White.
The centre-half, 22, formed part of a three-man backline alongside captain Tom Jeffes and Tom Cain who were instrumental in the 2-0 quarter-final triumph over Flackwell Heath at the Victory Stadium.
All three central defenders threw in crucial blocks and stood strong as USP came under under intense second half pressure against the Hellenic League Premier Heathens.
However, Birmingham says credit should go to the whole squad for the individual performances they put in to take USP to within 90 minutes of Wembley.
Birmingham recalled a moment in the closing stages where striker Andrew Todd threw in a block.
And the defender reckons the performance and effort put in for each other showed they're more than just a group who play football together.
Birmingham said: 'Against Portchester (in the second qualifying round) it was a case of, 'here we go, it's just our luck, probably being drawn against one of the favourites to go far,' (but) we beat them and teams above since.
'As we've beat them we've just gained in confidence and everyone can see that in the way we now play.
'That's where the team spirit comes into it, everyone works hard for each other. That's the difference between having just a team or a group of mates - you don't want to let your mates down.
'It's got to the point where every time someone put a block in everyone was cheering. You've got Sweeney (Todd) in the 85th-minute throwing his body in front of the ball as a striker - it says a lot about what a journey it has been for everyone.
'I think it showed we can win pretty but we can win ugly as well (win over Flackwell).
'We're a good side but when it comes to it we've got a number of players who are ready to roll their sleeves up and really get stuck in.'
Birmingham conceded not even anyone associated with the club would have envisaged reaching this stage after drawing Wessex League Premier neighbours AFC Portchester in the second qualifying round.
The Royals, who boasted FA Vase winners Lee Wort and Barry Mason and other players with a Southern League pedigree, would have been expecting to go deep into the competition, rather than USP.
Since then, Glenn Turnbull's team have beaten six teams from a higher division in seven rounds.
Birmingham says with each win the confidence within the squad has grown - and now they really believe Wembley is possible.
He said: 'If you'd have said to us at the start of the campaign when we got Portchy we'd be 90 minutes away from Wembley everyone would have gone, 'yeah, okay'.
'Now it's got to the point where it's 90 minutes and we've beaten the best in different divisions, so I don't see why we can't do it again.
'I feel like everyone this year has underestimated us and I feel like it's worked for us perfectly.'