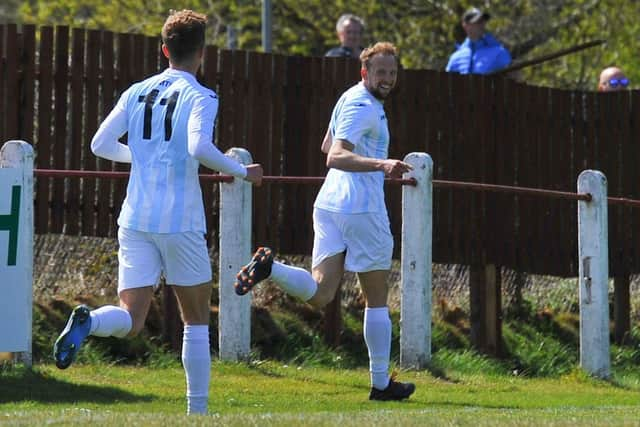 Andy Todd, right, is all smiles after putting US Portsmouth 2-0 up at Tavistock last weekend - his fourth FA Vase goal of the season. Picture: Martyn White.
But the striker conceded that memorable victory in west Devon will count for little if they do not seize the golden opportunity in front of them and reach Wembley.
USP are preparing for another historic FA Vase occasion on Saturday as they welcome Hellenic League Premier side Flackwell Heath in the quarter-finals.
Glenn Turbull's troops are just two wins away from Wembley - and have a home semi-final against either Long Eaton or Binfield awaiting them if they can see off the Heathens.
Todd admitted playing under the arch is now becoming 'more of a reality than a dream'. And he believes US Portsmouth could achieve the impossible should they perform to the level they did in beating Tavistock.
Todd - who scored his fourth Vase goal of the season at Langsford Park - claimed: 'We were coming back (from Tavistock) thinking we can actually do it.
'Apart from Millbrook, who are at our level, we'd beaten quite a few step 5 teams from the Wessex League so you know a bit about them, (but) going to Tavistock was definitely our toughest test.
'Coming away with that result, I think it sets the marker to say we're serious competition for this now.
'With the home draw and Flackwell Heath beating (Plymouth) Parkway, obviously it's going to be a difficult game, but we're at home again.
'Fingers crossed, if we get through that then we've got another home tie, so our next away game could be at Wembley.
'Everything seems to be falling into place, everything is going into place off the pitch, we just need to do it on the pitch.
You never know, if the stars are aligned we could end up there.'
USP will gather some additional pre-match information on Flackwell thanks to Todd.
He will pass details from a phone call with Combined Services team-mate Rob Farkins onto boss Glenn Turnbull and his team.
Farkins was part of the Parkway side who suffered a surprise 4-2 last-16 defeat to Flackwel last weekend.
Todd said: 'I sent him (Farkins) a bit of a cheeky message saying, 'I'll see you next week then, will I?' knowing full well they'd been beat.
'We're going to have a chat, he's going to give me a bit of a background on what they're (Flackwell) are like.
'He said Parkway didn't turn up, they're probably always going to say that, but he thinks we've got a real good chance.
'Flackwell are not a bad side but we can definitely get at them and beat them.
We're not fearful of anyone, we'll play what's in front of us, play our own game and hopefully get another result.
'He'll have a chat with me and I'll pass it onto Glenn about what they did.
'He passed me some stuff about how Tavistock set up and how they play. But it doesn't matter how much we've got on the other teams, we'll always set up and play the same system and same way.'