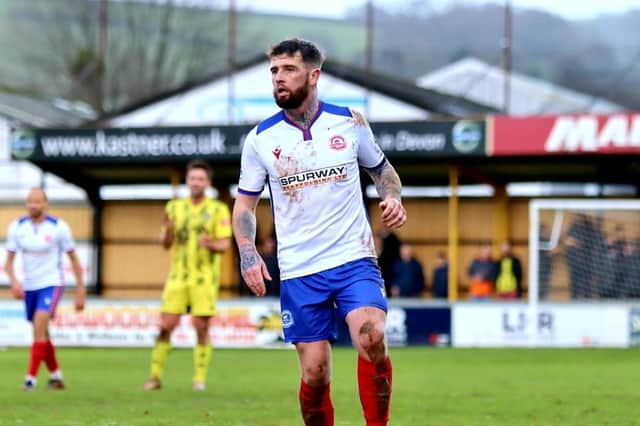 Ryan Woodford netted in Gosport's home draw with Truro Picture: Tom Phillips
Centre-half Ryan Woodford headed home two minutes before the break, cancelling out Tyler Harvey's earlier first-half opener, as it ended 1-1.
Despite seeing his troops come away with a point and remain in the final play-off spot in fifth, Gale insisted it was a performance lacking in 'fluency' from his in-form side, who have now gone six league games unbeaten.
He said: 'I can't fault (the) effort, I can't fault commitment, again we had a great crowd, people in the bar were saying what a great performance it was again. I just know we've got more in the locker.
'Analysing it, I was frustrated in how we played, we played in patches, we didn't play with any real fluent flow which we have done in recent weeks - since the turn of the year we've been fantastic. We had to make a couple of chances. Does that make a difference? You can over analyse it.
'I was just frustrated, they had a couple of chances and so did we, we gave away a soft goal from a free-kick which was avoidable. It was a disappointing way to concede a goal.'
Harvey curled home a free-kick on 22 minutes to put the visitors ahead before Woodford headed Boro level 21 minutes later.
Chances came at either end in the second half, with neither side able to grab a winner in front of a decent turnout of 543 at Privett Park.
Woodford somehow poked over the crossbar from almost two yards after the ball had fell to him following a corner on 65 minutes.
Striker Dan Wooden thought he'd fired the hosts ahead for the first time four minutes later, only for the referee to pull the game back for an earlier foul committed by the forward.
At the other end, Truro had a goal ruled out for a foul committed while Brighton loanee goalkeeper Fynn Talley pulled off a great save from Niall Thompson with five minutes of normal time left to play.
Gale added: 'It was just one of them. We're striving for consistency from the lads, maybe we're asking a little bit too much.
'It's a good result, they're a good side Truro, we've taken four points off them this season. We won down there and drew at home - we'd have taken that at the start of the season. It would have been nice to take the three (points), but you can't always get what you want.'