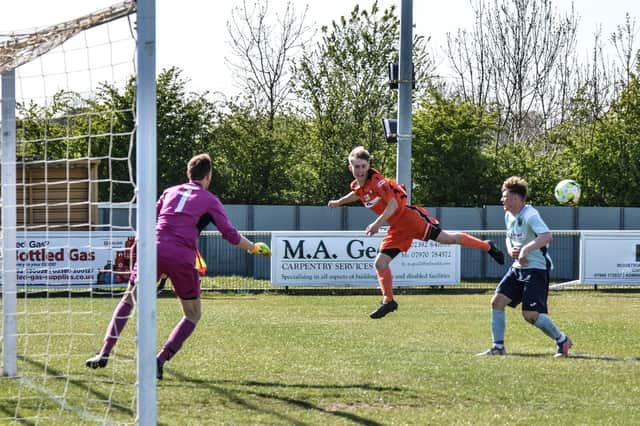 Harvey Aston (orange) in action for AFC Portchester in their Hampshire Invitational Cup win over Petersfield Town. Pic: Daniel Haswell.
The 18-year-old, operating in an unfamiliar defensive role, has impressed Royals boss Dave Carter in both the club's opening two group 1 Hampshire Senior Invitational Cup games.
After a solid showing in the opening tie against Folland Sports, Aston picked up Portchester's man of the match award for his efforts in Saturday's 1-0 win over lower division Petersfield Town at The Crest Finance Stadium.
Former Hawks, Gosport and Moneyfields midfielder Marley Ridge's sublime second half lob ensured the Royals made it two wins to start their group 1 campaign.
Makeshift striker Sam Pearce in action against Petersfield Town. Picture: Daniel Haswell.
But it was Aston, promoted to the first team after impressing Carter while playing for the club's under-23s, who came away with high praise for his efforts filling in at right-back - an unusual position for the central midfielder.
Carter said of the teenager: 'I took the under-23s for a night at Whitchurch and he impressed me, he did very well, so we brought him in.
'We played him at right-back against Folland - he's done fantastic - and he was very good again on Saturday.
'He's a centre midfielder who's been playing right-back because it's a position we've been short on. He's done very well for a young lad.
Marley Ridge, second left, has just scored Portchester's winner against Petersfield. Picture: Daniel Haswell.
'He's only 18 so he's got a good career in front of him I'd imagine.'
Recent Royals addition George Barker pulled out in the warm-up ahead of facing Petersfield so central defender Sam Pearce filled in as a striker - having been deployed in that role during his time with Moneyfields.
Pearce hit the post in the first half, just missing the chance to mark his positional switch with a goal, while Oscar Johnston also struck the woodwork after the restart.
It was Ridge who got the winner and with US Portsmouth pulling out of Tuesday's scheduled group 1 clash, Portchester are now assured of a place in the last-eight of the supplementary cup competition.
AFC Portchester's Lamin Jatta in action against Petersfield. Picture: Daniel Haswell.
The Royals are now trying to arrange a friendly for tomorrow night.
Carter added: 'We're looking for a friendly because the game against US Portsmouth, understandably they've called it off because they've got the quarter-finals of the Vase on Saturday.
'We'll see if we can find a friendly and, if not, we'll probably do something in-house.
'It's a bit disappointing but I fully understand and we get three points and a home walkover for it.
'I think once you get to the quarter-final stages everyone wants to win, so it gets as serious as it can be for what it is.'