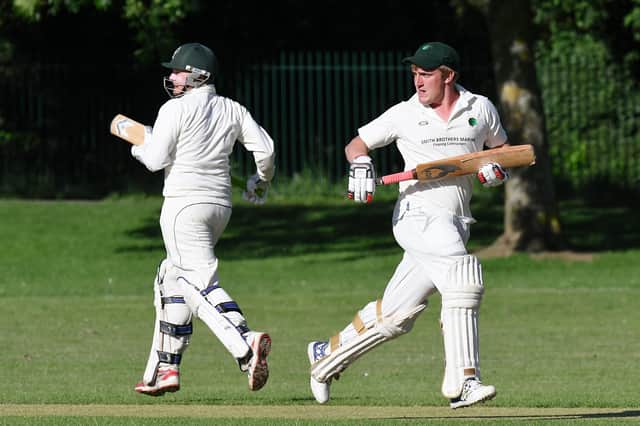 Dan Clark and Harry Robbins batting for Bedhampton in a Hampshire League game against Bournemouth 2nds in 218. Picture: Neil Marshall.
The Bidbury Mead-based club will now have just two senior men's sides moving forward as opposed to the three which had previously operated under their banner.
Chairman Chris Thomas decided to pull the 1st XI because of a decline in the calibre of players at the club.
The first team squad has been decimated by a number of departures since the summer of 2019.
As a result, and in approval with the Hampshire League, Bedhampton's former 2nd XI will become the first team and continue to play in the fourth division of the county pyramid.
Thomas explained: 'Unfortunately, due to major changes to our players and everything else, our first team and our first team strength has declined.
'We took the decision, with the support of the Hampshire Cricket League, to withdraw our first team from the county one league this year.
'Over the past two or three years we've probably lost nearly the whole of our first team for many reasons.
'Some have left, some have retired, some have decided not to continue playing whilst things are going on as they are.
'What we couldn't do was stretch our resources and move everybody up from our second and third team into the appropriate higher leagues, because it would cripple the club.
'It was better to try to regroup and make the hard decision.
'It was a very difficult decision to make, but we felt it was the right thing for the club and its survival to allow us to regroup.'
As part of the Hampshire League agreement, Bedhampton's first team cannot be promoted no matter where they finish in division four in 2021.
Thomas added: 'Unfortunately, when you look at the structure of our club, we're stretched in terms of from the first team - which was in Hampshire One - to our now first team in Division Four. That's three leagues difference and our third team is three leagues below them.
'When you've got that gulf of competitive cricket, you need the calibre of players to actually compete in there.
'By keeping our second team as it is - we have a very competitive second team.
'The league have applied some limitations on what we can achieve this season - our first team is not allowed to be promoted - but we accepted that as a punishment for withdrawing our first team.'