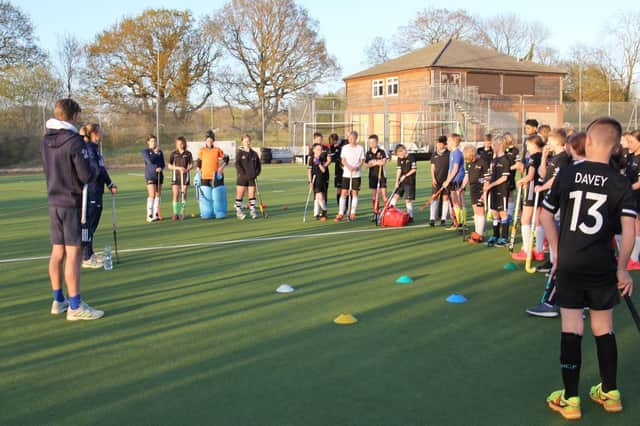 Fareham's junior section players take on information from England aces Lily Owlsey and Ollie Willars
Both junior and senior club members were treated to a 'masterclass' coaching session led by England and Great Britain Olympic gold medalist Lily Owsley and recently retired international star Ollie Willars.
Fareham players worked on a variety of skills under the watchful eye of the England pair before being allowed the opportunity to quiz both Owsley and Willars in a Q & A session.
The masterclass proved incredibly popular with around 100 payers from both senior and junior sections taking on board tips from the pair who've enjoyed exceptional careers.
Owsley, who joined a Zoom call with Fareham's girls under-14s team in the first lockdown, was part of the GB Women's team who won gold at the Rio Olympics in 2016.
Defender Willars, who collected 138 England caps across a fine career, recently announced his retirement from the game and has now set up a coaching and mentorship programme 'Give & Go' offering personalised mentoring in the sport.
He won gold with his country Sultan Azlan Shah Cup and was a familiar face for Fareham having played against them for Beeston in the Tier Cup final.