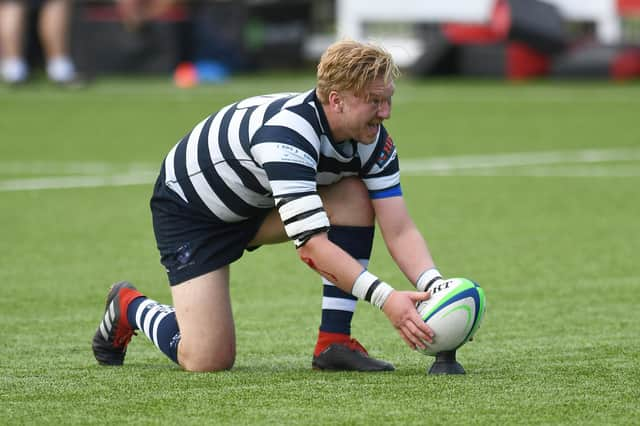 Jacob Knight kicked the conversion which gave Havant a 17-15 win at Brighton in their second London & SE Premier game of 2021/22. Picture: Neil Marshall
A 70th minute converted try saw coach Will Knight's side come from behind to claim a 17-15 success.
Sean Shepherd, one of the replacements, collected a pass from Wes Dugan and touched down with Jacob Knight adding the crucial conversion.
Knight had given Havant the interval advantage with a penalty. And then, after Brighton had taken a 7-3 lead, Cam Smith dived over to restore the visitors' lead with an unconverted try.
Brighton hit back but Havant had the final say.
Knight, whose side had trounced Sidcup 51-16 at Hooks Lane on the opening day, said: 'It was an excellent result, very pleasing.
'I was less pleased with the actual performance - we didn't click as we had the week before.
'But there are reasons for that - against Sidcup we had a vociferous crowd of around 700, it was our first game back for a long time. It's always going to be different on the road.
'Most pleasing was the last 10 minutes (after taking a 17-15 lead). We managed the game exceptionally well, we played sensible rugby and looked a good team.'
Havant host Sutton & Epsom next weekend, a match given extra spice by the fact Jacob Knight and Ben Holt - who played against Sidcup - recently swapped S & E for Hooks Lane.
Other new recruits, for Havant's first time back at London & SE Premier level for a decade, include Gav Houghan, Elliott Bellman, Pete Austin, Ross Parkin and coach Knight's youngest son, Reuben - the latter is currently sidelined with a broken arm.
Asked what his pre-season target was in terms of league position, the coach stated: 'We are highly ambitious and highly competitive, but we just want to give our best week in week out and see where that takes us.
'It's a little bit of the unknown for us, we'll see where we are at Christmas. We'll have a better idea then.'
While Havant have gone up a level since 2019/20 was curtailed, Sutton & Epsom have gone down one. They started their season with a 38-28 loss at Westcombe Park and were awarded a walkover last weekend by CS Stags 1863.