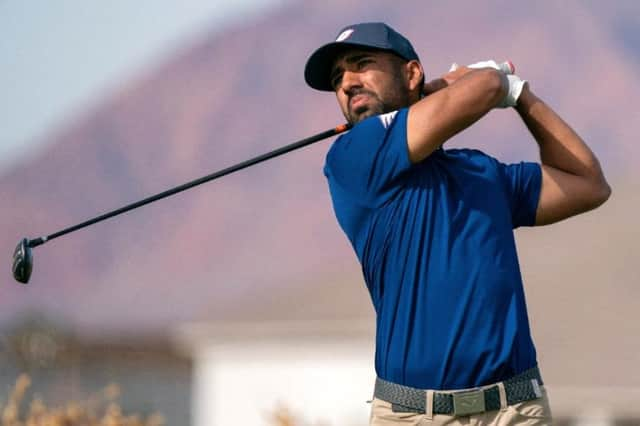 Aman Uddin. Picture: Stan Plewe / Dixie State University
The Lee-on-the-Solent GC member is making the most of his opportunities to play in the warmth and sunshine of the desert close to Las Vegas, while his county colleagues are sat at home unable to play during lockdown.
Aman, from Fareham, who won the Hampshire U18 crown in 2019, is in his second season at Dixie State University in St George, Utah, writes ANDREW GRIFFIN.
He now plays in the Trailblazers team's No. 1 slot, and last week he was named Player of the Week in the Western Athletic Conference – made up of colleges in the NCAA Division One.
Flashback - Aman Uddin, left, after his Hampshire under-16s championship success.
That is the same breeding ground that has produced the current crop of PGA Tour stars, who all graduated in the past six years, and are now taking the sport by storm, competing for – and winning – big titles from the get-go.
DeChambeau has been creating huge waves in the past year with his revved up swing – based on his "beefed-up" body allied to a strong scientific approach as he crushes drives regularly between 350 and 400 yards.
Morikawa – who played against Hampshire's two Amateur Champions, Harry Ellis and Scott Gregory, in the 2017 Walker Cup in Los Angeles – won the PGA Championship at the age of 23 in August, a title won by Thomas at the same age in 2016.
Matt Wolff – runner-up when DeChambeau claimed the US Open crown at Winged Foot in September – is another US college graduate.
Aman Uddin. Picture: Andrew Griffin.
In total, seven members of the 2017 Walker Cup team possess a PGA Tour card just four years after playing in amateur golf's equivalent of the Ryder Cup with Scottie Scheffler and Will Zalatoris tipped to make breakthrough wins in 2021.
Aman knows Gregory well, having been in the Hampshire junior squads which Scott's father Mike helped manage, since he was 11.
Scott Gregory, along with Ellis, is preparing to have a crack at gaining promotion to the European Tour via the Challenge Tour.
Meanwhile, Uddin - who first played golf at Cams Hall with his dad Mahim, at the age of seven - is determined to work as hard as he can at Dixie to earn a shot at the big time.
Bryson DeChambeau has progressed from the US College scene to becoming a Major winner. Picture: AP Photo/John Raoux.
Aman said: 'Watching guys like DeChambeau, Thomas, Morikawa – knowing they were playing the same level as me in college golf just a short time ago – is obviously a massive inspiration.
'For sure, that's the only goal for me. And there's no reason why I can't get out there and join them on Tour.
'I am refining and building on what I have – they are the steps I am taking to make that happen.
'I have everything you need to play on the Tour here with the fantastic courses we play, and the best training facilities.
'All of the Hampshire juniors have seen what Scott and Harry achieved, and feel we can be just as successful if we work as hard.'
Now he is loving life Stateside, albeit the pandemic is very much on everyone's mind in the USA as in the UK.
'Dixie missed out on our Fall season because of Covid-19,' he said.
'But I am raring to go as the Trailblazers' try to qualify for this year's NCAA finals – the first attempt in Dixie's history.'
Lockdown ended Aman Uddin's first season in the States prematurely.
And there was very little top level golf when he returned to the UK in June.
Last year's Hampshire, Isle of Wight and Channel Islands Amateur Championship was put back to September, when Aman had already returned to Dixie State.
It meant he was only able to enter the English Amateur Championship at Woodhall Spa – the home of England Golf.
Uddin proved his mettle as a junior – bouncing back from a play-off defeat in the 2018 Hampshire Junior Championship to claim the Under-18 crown 12 months later.
He has been aware since he moved to American that the next step was to start producing the kind of results achieved by Ellis and Gregory, who won the British Amateur back-to- back in 2016 and 2017, to earn recognition by his county at men's level, and hopefully attract the attention of the England selectors.
Despite a battling run in the second round of the 2020 English Amateur at Woodhall Spa, he missed the cut by one in his debut in the competition.
A relatively unknown Gregory reached the English Amateur final in 2014 – the springboard to his rise to European No. 1 Amateur three years later, having beaten Scotland's latest European Tour winner Rob McIntyre in the Amateur Championship final in 2016.
Having been around Gregory, and watched him prepare and play in top amateur events for Hampshire, Uddin knows what it takes to get to the top.
Aman, who will be hoping Dixie make it at least to the NCAA regional finals in early May, said: 'I'm not sure how much golf I'll be playing in the UK, this summer.
'I will be taking one step at a time. But I plan on definitely playing the English Amateur again, and the county championship at North Hants.'
This year's Hampshire, IoW & CI Amateur Championship will be a good time to show county captain Neil Dawson how big the strides he has taken across the Atlantic.
After the first two events of the 2021/22 season, Uddin, who won the Cams Halls Club Championship three years in a row while still a junior, has a stroke average of 71.83.
That left him tied for fourth in the Western Athletic Conference individual rankings after six rounds.
Uddin's Dixie State team are heading to Phoenix this week for the Grand Canyon Invitational, at the Grand Canyon GC, from March 15-16.
Last year, his best finish was fifth place in the Western New Mexico Invitational.