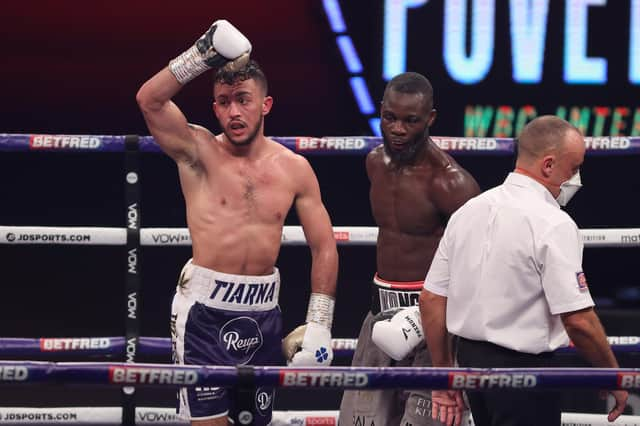 Mikey McKinson celebrates victory over Chris Kongo. Picture b Mark Robinson (Matchroom Boxing)
But the Pompey Problem doubts whether a summer showdown with Matchroom fighter Conor Benn will be on the cards for him.
The slippery southpaw's stock could not currently be higher after landing a huge victory to take Kongo's WBO Global welterweight belt on the Dillian Whyte v Alexander Povetkin II undercard in Gibraltar.
Finally, McKinson's name is known within the boxing world having taken his perfect professional record to 20-0 on the biggest of stages.
Now the 26-year-old is expecting to be under the bright lights again when he gets back in the ring, and is eyeing this summer for his next bout.
McKinson said he was under the impression it was 'winner stays on' in the Kongo fight and is expecting leading Matchroom man Hearn to be in touch.
Yet with unbeaten Benn, son of former two-weight world champion Nigel, on the books of Matchroom, he is unsure whether he'll get a shot at him next.
McKinson said: 'After coming to Matchroom and beating Chris Kongo I doubt they'll want me to fight Benn (Conor).
'Out of all the domestic people that call Benn's name, everyone calls Benn's name, I deserve it, domestically, more than anyone else.
'Will I get it? I'm not too sure.
'If I don't get it, I'm here now, everyone knows who I am now.
'For the first time in my career I feel like I'm in the driving seat a little bit. I own that welterweight division domestically.
'Whether I'm the biggest name or not - I'm definitely not the biggest name or the biggest draw - but that welterweight division is mine and I've proved it.
'We'll see what Eddie (Hearn) says, Eddie has already said it's winner stays on in an interview he had afterwards, so I'll be waiting to hear from him.'
Benn defends his WBA Continental welterweight title against Colombian Samuel Vargas next month.
Should he come through that, the timing could be almost perfect for a blockbuster summer showdown with McKinson.
But the Pompey Problem is not bothered whether that does materialise as his next fight.
Instead, McKinson is just looking forward to seeing what is ahead for him on the back of a huge win over Kongo.
And the southpaw, with WBC world youth, WBC silver international, WBO European and WBO Global welterweight titles under his belt, admitted it'll be nice not to have to go chasing and calling out fighters on the back of his big win.
Mckinson said: 'I'm happy, really happy, I'm not going to go calling this name, this name and this name out.
'I've done that before to get to where I am now.
'I won't be the favoured one, I'll probably still be the B side or whatever, but it doesn't matter as I've proved it means nothing.
'Being the B side, being doubted, being the underdog with the bookies means nothing - it does mean nothing.
'If I've got the self-belief I've got and the team I've got then the world is my oyster, it is.'