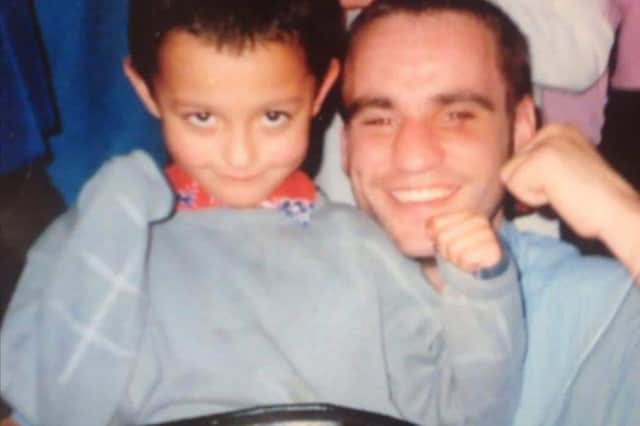 Flashback - Tony Oakey with a young Mikey McKinson - the Leigh Park Warrior feels McKinson can emulate his achievements in the ring
And he says you'll struggle to find a pair more deserving of their place on boxing's biggest stage than McKinson and his father and trainer Michael Ballingall
The Pompey Problem is putting in the final preparations ahead of his welterweight Battle of Britain with Chris Kongo in front of the Sky Sports Box Office cameras on Saturday.
McKinson, with an unblemished 19-0 pro record, clashes with the unbeaten Bermondsey-based boxer for his WBO Global title on the Dillian Whyte v Alexander Povetkin II undercard in Gibraltar.
Trainer Michael Ballingall, second left, congratulates Tony Oakey, third left, after his British light heavyweight title win
Oakey, who has a close connection with both Ballingall and McKinson, could not be better placed to give an insight into a big boxing occasion.
Across a glittering 12-year professional career, the Leigh Park Warrior claimed world, Commonwealth, British and English light heavyweight honours.
In fact, Ballingall was in his corner and part of Oakey's team over the course of his time in the pro ranks.
Both he and Ballingall have remained close since and, acting as an 'uncle-like' figure to McKinson, he's watched him grow from a toddler to getting a spot on the biggest of boxing bills.
Flashback - Tony Oakey is all smiles after beating Hastings Rasani to win the Commonwealth light heavyweight title in 2001. Picture: STEVE PARKIN.
And having had such a close connection with the boxer and his dad, he is thrilled to see them get the recognition their relentless hard work has long deserved.
Oakey said: 'At this precise moment in time I should think the whole family must be on cloud nine.
'I'm just over the moon for them as a family that now they're getting the recognition that they deserve.
'To think for him (Mikey senior), Mikey (McKinson) and Lucas (Ballingall, Mikey's brother), as a family, to think now that his son is going to be on a Sky Box Office show, it's going to be beamed all over the world - I think it'll be a very, very special moment for the whole Ballingall and McKinson family.
Flashback - Tony Oakey holds aloft his WBU world light heavyweight championship belt after beating Kostyantyn Schvets in March 2002. Pic: AP Photo/Richard Lewis.
'I've known Mikey and Lucas since they were proper little toddlers, I've known Mikey snr for years.
'I'm like the boy's uncle so I will definitely be glued to it, watching it and cheering him on.'
Oakey is in no doubt McKinson will rise to the occasion on a show being billed as the 'Rumble on the Rock'.
In fact, he is adamant this will be just the start of great things for the Pompey boy.
Face to face - Mikey McKinson (wearing his Portsmouth FC shirt) squares up to Chris Kongo (wearing his Millwall shirt) ahead of this weekend's WBO Global Welterweight title fight in Gibraltar. Picture: Mark Robinson (Matchroom Boxing)
Already ranked as the number two welterweight in Britain and sixth in the world by the WBO, McKinson is bidding to add the WBO Global belt to his WBC youth world, WBC international silver and WBO European titles.
But Oakey reckons another big domestic showdown with either top name welterweights Josh Kelly or Connor Benn might be his best next step when he beats Kongo, rather than chasing a world title just yet.
The former WBU world light heavyweight champion said: 'I have absolutely no doubt that he'll win, absolutely no doubt.
'I think that's what some people don't realise, when you're in a hard fight and get to round six and you start asking yourself questions, Mikey's got all the answers and has answered all the questions.
'I don't know if Chris Kongo has answered all those questions yet.
'Haven't you got Josh Kelly in his rankings, haven't you got Connor Benn? There are some great domestic dust-ups there.
'I know he wants to fight for those world titles but there's good money to be made there, good money and good recognition.
'I remember when I fought on the undercard of Ricky Hatton, it was at Wembley. What I'm saying is if he wins this why can't he then go and top the bill fighting one of them lot and pack out a stadium somewhere?
'I get what he's saying about wanting a world title and that but these domestic dust-ups and rivalries are brilliant, these are what people will remember him for.'
Oakey has long stood alone as Portsmouth's most decorated boxer and only world champion.
But he has the belief McKinson could one day emulate his achievements.
Oakey can pinpoint the exact moment he recognised the Pompey Problem's champion potential.
'I remember when I was in his corner because his dad asked me to and we went to Swindon and he fought at chap called Ryan Martin (for the WBC youth world title),' he recalled.
'He was right up against it - I know boxing inside and out, the same as his dad - Mikey was being taken up there to get beat.
'He was fighting a home boy in his hometown on his own show - he was getting taken up there to get beat. But that night Mikey showed me that he's championship material, he's a champion in the making.
'What I mean by that is, anyone can box, whether they're any good or not is irrelevant, not everyone can be a good boxer - it's only a small percentage that can claim to be a champion and be genuine.
'There's a massive difference between being a good boxer and being a champion.
'Mikey had never done anything that was right out there and grabbed your attention, but after that night I said to his dad he was going to go on and achieve something.
'He finds a way and that's what makes a champion.'
But as McKinson heads into the biggest night of his career, Oakey stressed the influence of his father and trainer should not be forgotten; after all, Ballingall was a big part of his rise to become a world champion.
Oakey said if ever a top champion was going to be produced from Portsmouth, Ballingall would be in the background.
And the retired light heavyweight says the fact his son, Mikey, is pushing so hard to make it must mean even more to his close friend.
Oakey said: 'You've got to take your hat off to Mikey Ballingall, the dad, and the boys because there are times when you're training and getting no money and you're travelling all over the country for sparring and it's at a cost.
'They've stuck at it and now he's getting the recognition and everything he deserves.
'I've watched him and his brother grow up and his dad's a fantastic trainer.
'If there was ever going to be a trainer from Portsmouth to train anyone to go on and take my mantle it was definitely going to be Mikey. Whether it was going to be one of his sons, I didn't know, but I knew - Mikey had been around it too long, he'd been around it with me and Craig Watson, he's been a student of the game.
'If anyone is going to do it (train a Pompey world champion) it'll be someone to do with Mikey Ballingall and, considering it's his son, I've got absolutely no doubt.'