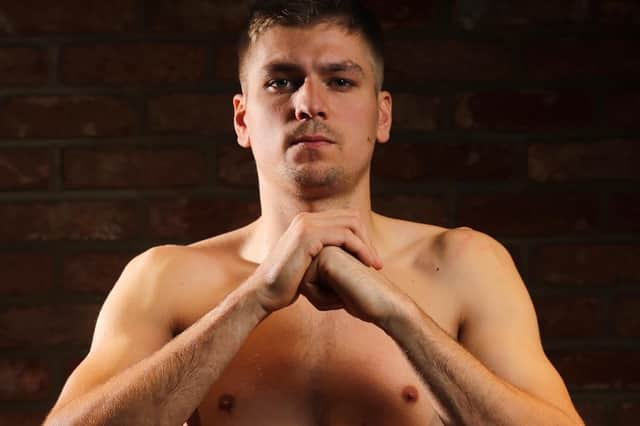 Matt King
The Gosport welterweight is preparing to take on highly rated Irishman Edward Donovan on Frank Warren's BT Sport show at the Copper Box Arena on Friday night.
Former Fareham ABC fighter King has been out of the ring for eight years since his days as an amateur.
The 25-year-old acknowledges agreeing to take on a four-rounder with Donovan - also making his pro debut - is a big first professional step but one he couldn't refuse given the opportunity it provides him in front of the BT Sport cameras.
King said: 'I've been training very hard for it and it's a chance to get noticed.
'It takes some people loads of small shows to even get to a position to fight on the TV. I've been training hard enough to put on a show so, fingers crossed, I'll put on a show and everyone will know who I am.
'We've taken this, we know he's a top amateur, but I've been training with top professionals.
'There wasn't a question about it when Mike (Ballingall) asked me, to be honest. It was just like, 'do you want it' and I was just like, 'yeah'.
'I wasn't interested in the opponent, to be honest, I'm only focusing on myself.'
King has been in training since returning to boxing in November 2019.
He's had to wait a little longer than he would have liked to finally make his pro bow because of the coronavirus pandemic.
But the Covid-19 outbreak has allowed him more time to learn under his vastly experienced and 'knowledgeable' trainer and manager Michael Ballingall.
King believes the fact he gets to train alongside and Mikey McKinson - preparing to face Chris Kongo for the WBO Global welterweight title on Saturday - and his brother, Lucas Ballingall, the English lightweight title challenger, has benefitted him greatly ahead of stepping in the ring with Donovan.
King said: 'I've learnt so much in such a short time of being there (in the gym).
'Just doing the rounds and sparring with them (Mikey McKinson and Lucas Ballingall) and Mike, their dad is the trainer, you just feed off him like a sponge with the knowledge he's got, he's been around the game years.
'He's (Edward Donovan) a very good amateur, I know that, but I'm not too worried at all. I've got Mike McKinson and Lucas Ballingall to spar with.
'I want to show my skills and show them what I'm made of.'