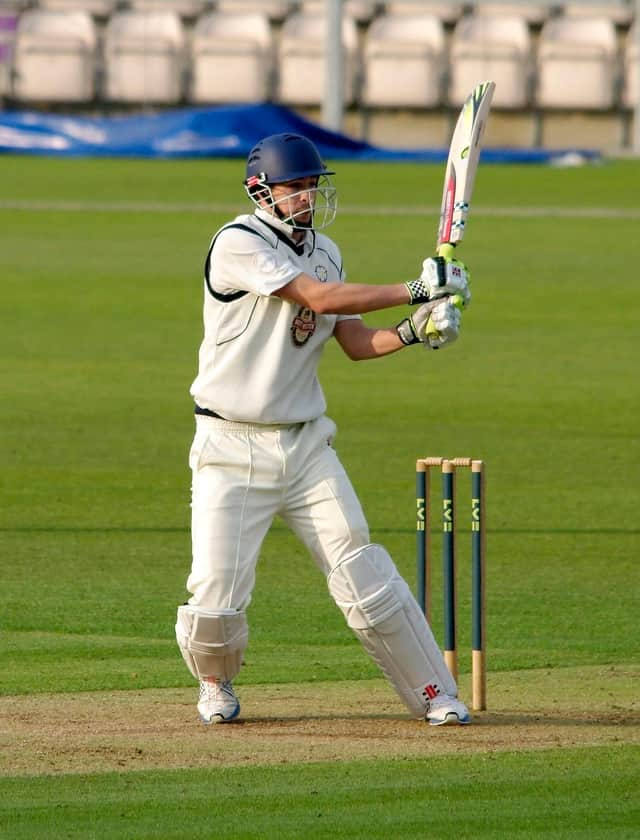 Chris Wood scored a career best 105 not out in a stunning last-wicket stand with David Balcombe at Grace Road in 2012, but Hampshire still lost a Division 2 Championship game to Leicestershire by 126 runs. Picture: Neil Marshall
Here, The News looks back at four of the most memorable encounters between the two counties at Grace Road - including two of Hampshire's greatest ever wins.
Francis Quinton struck a career best 178 and Harry Baldwin bagged eight wickets as Hampshire thrashed Leicestershire by 342 runs.
It was the county's first season in the Championship and set a new record that wasn't surpassed until a 349-run victory over Somerset in 1913.
All these years on, it remains Hampshire's third biggest Championship win by runs - a new record being set in 2014 with a 470-run destruction of Essex.
Scores: Hampshire 229 (A Hill 55, T Wynyard 53) & 334-7 (F Quinton 178), Leics 147 (H Baldwin 5-44) & 74 (T Soar 4-36, H Baldwin 3-27, F Quinton 3-8). Hampshire won by 342 runs.
Two years later, Hampshire twice skittled their hosts out for under 100 as they romped to an innings and 195-run success.
It remains the county's second largest margin of victory by an innings - only an innings and 213-run thrashing of Northants in 1935 is greater.
Opening bowlers Baldwin and Chris Heseltine were the main wicket-takers, sharing 15 of the 20 wickets to fall.
Scores: Hampshire 378 (F Quinton 73, T Wynyard 58, F Lacey 55), Leics 91 (H Baldwin 4-14, C Heseltine 4-49) & 92 (H Baldwin 4-40, C Heseltine 3-16). Hampshire won by an innings and 195 runs.
Tailenders Chris Wood and David Balcombe both recorded career bests - but were unable to prevent their side from losing a Division 2 encounter by 126 runs.
No 9 Wood and No 11 Balcombe came together with Hampshire 154-9 in their second innings. The pair proceeded to add an astonishing 168 for the last wicket.
Balcombe was eventually dismissed for 73, but not before Wood (105 not out) was able to celebrate what would remain his only first class century.
Scores: Leics 356 (J Tomlinson 5-69) & 265-8, Hampshire 181 (S Ervine 58no) & 314 (C Wood 105 no, D Balcombe 73). Leics won by 126 runs.
James Vince scored a pair of half-centuries as Hampshire romped to victory by 278 runs in their Division 2 title-winning season.
Matt Coles scored 83 batting at No 8 in the second innings, before picking up three cheap wickets as the hosts collapsed second time around.
Scores: Hampshire 332 (J Vince 70, A Wheater 57) & 338-9 (M Coles 83, J Vince 56), Leics 296 (J Tomlinson 4-49, K Abbott 4-55) & 96 (D Briggs 4-13, M Coles 3-24). Hampshire won by 278 runs.