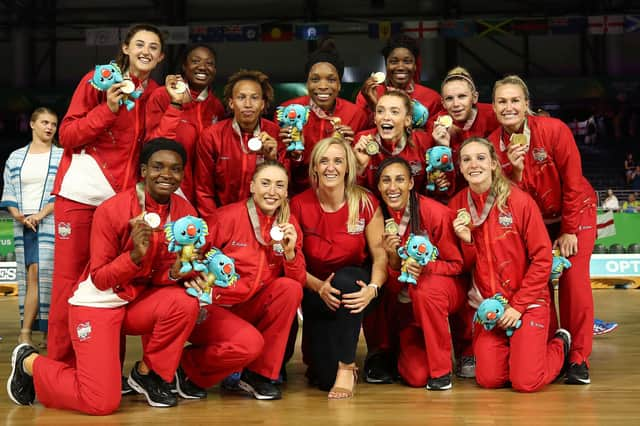 Gold medallists England and head coach Tracey Neville after victory at the Commonwealth Games in 2018. Photo by Scott Barbour/Getty Images.
The High-Performance Coach Apprenticeship scheme aims to target high potential coaches to help develop skills and gain experience relevant to their sport, writes WILL JENNINGS.
As the England Netball Roses Academy head coach, Forbes is tasked with overseeing the development of the next generation of netball stars.
And after being selected as one of 26 coaches to join the programme, the Lee-on-the-Solent resident was thrilled to have the opportunity to work alongside the best UK Sport coaching has to offer.
Forbes, 35, said: 'I've been on similar programmes before but this one is very unique in terms of what it has to offer.
'You can go on many one to three day workshops, but this apprenticeship really gives you the chance to grow as a person, learn the theory and then put that into practice.
'It's also great to just be given that space amongst other coaches and to be able to ask questions or be curious about certain things that you don't always get to do.
'I would never usually find the time to go to a table tennis session, so it's great to have those spaces available to learn things from other coaches in different sports.'
With 20 years of experience playing and coaching, Forbes is something of veteran in the netball world.
And she believes that the apprenticeship scheme is one that could have a lasting impact upon the development of female coaches within the sport.
'Schemes like this just show us where we could go.' explained Forbes.
'At the moment, we're working really hard and we know the coaches volunteering is our workforce within our sport.
'Having those accessibilities and options, even for someone like me who is employed by England Netball, is great.
'It's great to have this opportunity and to continue my own development and schemes like this will only help to further female representation when it comes to coaching.
'It's about having those opportunities available to everyone at whatever level that we're at.'
After being a part of the game for so long, Forbes has also seen first-hand the strides the game has taken over the years.
'The media aspect, like getting netball in the media and making it more accessible for people is a really key thing for people,' she declared.
'It's been a really key development from both a spectator and a playing point of view.
'I think one of the biggest ones was when England beat Australia at the Commonwealth Games in 2018.
'I still remember where I was, in my kitchen. I fell to my knees and started crying and that moment will stay with me forever.
'We just need to keep riding the wave and building momentum to keep making netball more accessible in the media and everywhere.'
*UK Sport's female coaches leadership programme is positioning 28 coaches as role models for the next generation of female coaches. It marks a turning point of truly making the coaching workforce in the Olympic and Paralympic community far more diverse and gender equal. For more information, visit www.uksport.gov.uk