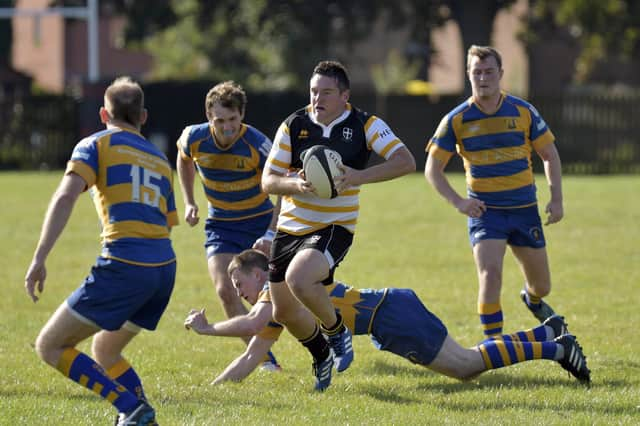 Gareth Richards in action during his playing days with Portsmouth RFC. Picture: Neil Marshall
The former player has taken over from Neil McRoberts after the RFU's step to cancel the season for teams outside of the Premiership because of the Covid-19 outbreak.
Although Richards remains unsure when he might be able to get to work on the field with his squad, things are continuing off it.
He is not letting the current lockdown stop him speaking to players, coaching staff and potential new recruits as he looks to build a team that can challenge for honours in his first role as a head coach.
'There are things going on behind the scenes,' revealed Richards.
'When the appointment was confirmed, we started trying to get plans in place with regards to coaching set up, player retention and then player recruitment as well.
'I think before looking outside of the club, the most important thing is keeping the players that are here.
'We're lucky that we've got a really good core group of what I would class as essential players with regards to moving the club forwards.
'The priority is to make sure they're happy, want to stay next year and be involved with what we're doing.
'We've started those as best as possible.
'Ideally, you'd like to be able to go and meet players and have those conversations.
'There's a lot to be said by having face-to-face conversations with people rather than doing it by phone or by message.
'I've been having chats with players and it seems to be quite positive at the moment.'
The early end to 2019/20 prevented McRoberts from saying his goodbyes at Rugby Camp.
He was the man that handed Richards his coaching chance after his career was ended by a knee injury in January 2019.
Richards was assistant coach this season, working predominantly with the backline.
And he is thinking of ways Portsmouth can thank McRoberts for his two-year service when rugby resumes again.
'Everyone seems disappointed the season has ended,' added Richards.
'We're all disappointed that Neil has not has his opportunity to finish the season and say his goodbyes.
'We'll try to find a way we can give him that opportunity because he's done so much for the club in his two seasons.It would only be fair for him.
'I'm privileged to have been handed the opportunity
'I played for the club for 10 years before the knee injury ended my career.
'I was lucky that Neil gave me an opportunity to work alongside him for a season.
'The appointment was a nice surprise.
'Neil has been a great coaching mentor for me and I've really enjoyed working with him this year.'