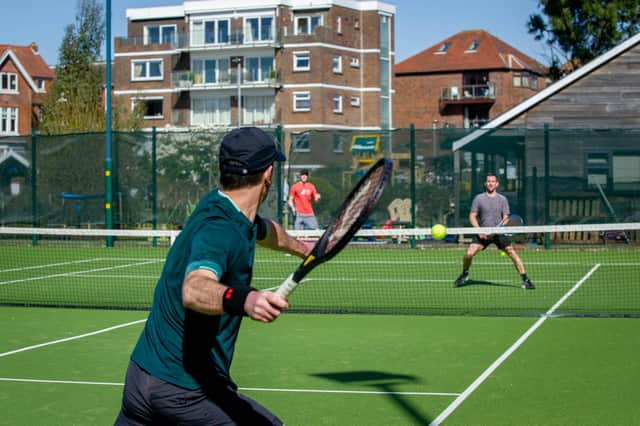 Tennis returned to Southsea earlier this week. Picture: Habibur Rahman
After nearly three months abstinence, there were no doubt plenty of aching bodies on the evening of Monday, March 29, but it could just about be guaranteed that no one would complain about their aches and pains – they were just be happy to be back on court!
There are still some restrictions, of course. In particular, clubhouses will remain closed, but it was a very big step in the right direction, writes ALAN BEST.
But what about league tennis? The Portsmouth Summer League usually provides over 800 fixtures for some 120+ teams from 25 clubs.
Obviously, this involves a significant amount of organisation and planning for a summer season usually starts in January.
With so much uncertainty about the future back then, it was obvious there could not be a normal summer season in 2021.
Furthermore, just a few matches in the "restart" winter league - put in place when lockdown was eased in the autumn - had been played and the league was suspended in December in line with lockdown requirements.
With a barely started winter league in suspension and the impossibility of organising a meaningful summer competition, the league committee had to put on their thinking caps and decide what, if anything, they could do.
The decision taken was that rather than attempt to cobble together a new 'summer restart' competition, play in the suspended 'restart' league would be resumed.
New fixture dates were arranged, with the aim being to complete all fixtures by late July, giving clubs competitive tennis but allowing time for the overall picture to become clearer, with the intention of organising as normal a winter 2021/22 competition as possible.
The league will restart on Monday, April 12, by which time the next phase of lockdown easing will (hopefully) be in place and a further step forward will have been taken.
Until then, players will have two weeks in which to rebuild their fitness and brush away three months of cobwebs!