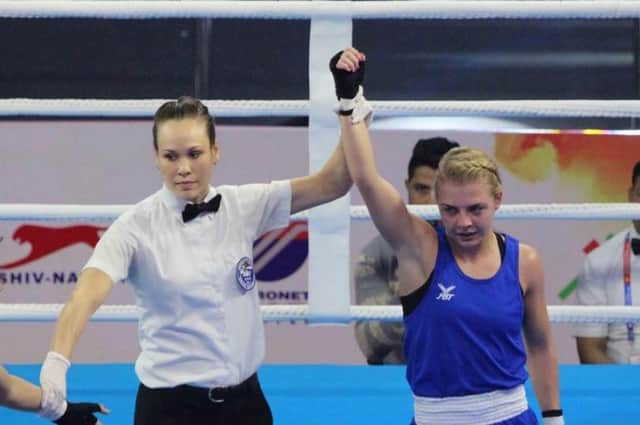 Ebonie Jones is declared the winner of a fight prior to her turning her back on the sport.
The constant battle to make weight for the Tokyo Olympics and represent Team GB on the biggest stage of them all was a defining factor in her decision to walk away from the sport.
So, with an amateur record of 60 victories in 65 fights, multiple national and British titles as well as European under-22 glory, Jones was finished with the sport she had grown up loving.
Serving in the army, the 22-year-old from Drayton briefly kept ticking over after leaving Team GB before cutting boxing out of her life entirely.
Ebonie Jones after winning another British title in February 2015.
A number of factors had contributed to one of Britain's biggest hopes for Tokyo stepping away from the ring completely.
But, remarkably, after an extended break, last summer the penny dropped for the former Charter Academy School pupil.
She was not willing to let her undoubted potential remain as just that; instead, Jones was ready to return to the sport.
Things escalated from a message to now trainer and manager, John Edwards, and a one-off session at Guildford City Boxing Club has now turned into preparing herself for a first professional fight this year as she waits for her application to be approved.
Ebonie Jones is preparing for a ring return in 2021 after turning professional
Quite the turnaround and Jones is back in the sport hungrier than ever to deliver on the biggest stages.
'I was on Team GB for two years but the Olympic weights go from 51kg and there was a big jump to 57kg - I was in the middle of them,' said Jones.
'I'd won the under-22kg at 54kg, which is bantamweight, with Team GB and I was 51kg for the World Championships.
'But I just could not maintain that weight anymore, I was 51kg when I was 12 and I used to have to make that weight then. I'm 22 now so I just got fed up with it.
'I was in India at the World Championships and I starved myself for a week, it was just no good.
'I could keep making it but I'd never be the best I could be at that weight.
'The dream was to go to the Olympics and it was hard to accept that I couldn't make that weight. I used to put my body through hell to make that weight, but I just had to accept it.
'I just got fed up and I was really, really gutted (when taking a break).
'When I had my break from boxing, even when (Tyson) Fury was fighting and people like that, I couldn't watch it - it was too heartbreaking to even watch.
'I would watch the odd fight but it would even hurt just to watch boxing, I wasn't boxing anymore and I didn't really see any light at the end of the tunnel with it.'
Everything Jones had been working towards since starting out at Heart of Portsmouth Academy from the age of 12 had been taken away.
The dream of becoming an Olympic champion would now never become a reality and it had a damaging impact on the Portsmouth fighter.
Now, though, she has rekindled her appetite and is ready to show why she was so highly rated as an amateur.
And the former HOP prospect will not be content until she wins a world title as she gets ready to make the step up.
Jones added: 'When I stepped away from boxing I realised I couldn't put myself through making stupid weights and being unhappy ... I lost the love of the sport through being somewhere I didn't like being.
'My happiness was a priority and I just thought about turning pro.
'I went down to Guildford City for a training session without thinking about it too much, I really loved it, got the love for the sport back and thought I was going to turn pro - that way I could box at any weight I like.
'The dream is to become a world champion and earn enough money from boxing just to enjoy my life.
'I won't be satisfied until I have won a world title in boxing, if I never do that I won't be satisfied.
'It's all I ever wanted to do as a kid, but it was obviously the Olympics.
'The dream was always to win the Olympics first and then turn pro.
'But now I'm not actually that bothered about it. The Olympics are up in the air with the weight thing.'
Jones is now planning on stepping away from the army completely to pursue a pro boxing career - some turnaround from where she found herself a year or so ago.
She is currently looking to make her debut in the professional ranks on a show in the Czech Republic in April - her first fight since November 2018.
But Jones is just pleased there is now more of a pathway and money-making opportunity for full-time female fighters, with the biggest promoters in the sport appearing to be pushing that particular market.
'When I was on Team GB the option for turning pro seemed like a joke for women,' she added.
'Women who had done nothing as amateurs, who weren't even good boxers, they were turning pro and getting to the very top. It was like, what is the point?
'But now it's getting bigger all the time, there's a way to make a career out of it now; before female pro boxing seemed like a joke unless you were (London 2012 gold medallist) Katie Taylor.
'It's getting more popular, people are wanting to watch it, people are getting more excited about it.
'There are boxing shows in the Czech Republic going on so we're looking around April time. It's all a bit maybes at the moment but I'm training as hard as I can and I will be able to get a fight in this year
'But to be honest, because I haven't boxed since 2018 I don't care where or who, it'll just be good to get that first one out of the way ready for when I'm going to be on these bigger shows.'