The man with a 'massive' dual role to play in Hampshire's 2021 County Championship campaign
Ian Holland has a 'massive' role to play in any success Hampshire have in this year's remodelled County Championship campaign.
Monday, 5th April 2021, 1:10 pm
Updated
Monday, 5th April 2021, 1:14 pm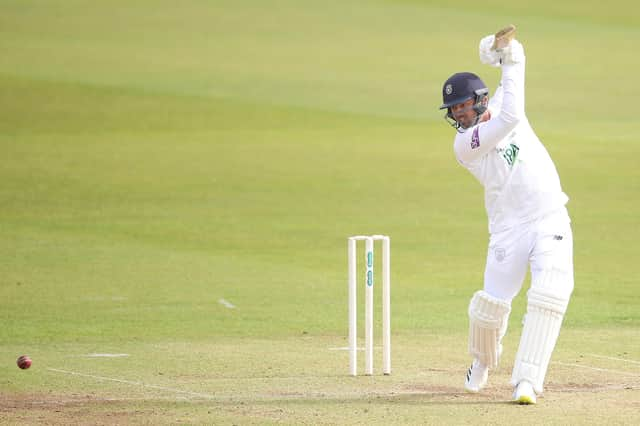 Ian Holland batting during his innings of 65 in the friendly against Sussex at The Ageas Bowl last week. Photo by Warren Little/Getty Images.
The 30-year-old all-rounder is expected to be given a dual role when the county lift the curtain on their 2021 first class season at Leicestershire on Thursday.
Holland will be handed what his skipper James Vince believes is one of the 'toughest' jobs on the domestic county scene - opening the batting in early-season conditions.
The USA international will also be needed as a back-up seamer to new ball pair Kyle Abbott and Mohammad Abbas as Hampshire target a top two finish in Group B of the Championship.
Hampshire captain James Vince on his way to an unbeaten 55 in the friendly against Sussex last week. Photo by Warren Little/Getty Images.
Holland is expected to open the batting with Joe Weatherley at Grace Road after doing the job in both pre-season friendlies against Northants and Sussex.
It is a position he has filled before - he was opening when he scored his only first class century for Hampshire in 30 matches, against Warwickshire (143) at The Ageas Bowl in 2019.
Holland has only passed 50 six times in 47 first class innings for the county, and averages 23.46.
But Vince will be happy with just a small improvement in a fixture list which only sees first class matches right through until early June.
Kyle Abbott appeals for a wicket while playing for Hampshire in 2019. Picture: Harry Trump.
'Dutchy (Holland) has a role with the ball as well, and that takes some of the expectation off his batting - which is not a bad thing,' said the skipper.
'Opening the batting in red ball cricket is an incredibly tough job.
'I'm not expecting him to average 50 opening the batting, though he's capable of doing so.
'If he can average 25-30 and do what he does with the ball, then his role in the team is massive.
Liam Dawson - 'one of the best spinners in the country' according to his captain James Vince - celebrates after bowling Joe Root during a Championship match against Yorkshire at The Ageas Bowl in 2019. Photo by Mike Hewitt/Getty Images.
'As I say, opening the batting in red ball cricket is one of the toughest things to do.
'Dutchy is willing to do it, and he's more than capable of doing it.
'At this time of the year there will be times batters will feel runs are hard to come by, but it's a case of minimising that and when you get a good wicket being able to cash in on it.
'You are going to get ups and downs, and at this time of the year you're playing four days out of every seven so there's not going to be huge time to prep in between.'
Weatherley also boasts just one Championship century to his name - an unbeaten 126 in the second innings against Lancashire in 2018. But no fewer than 14 2nd XI hundreds underlines his undoubted potential.
After averaging 26.23 and 23.14 in his previous two first class seasons, Weatherley was the county's highest scorer in last summer's Bob Willis Trophy campaign with 263 at 43.83.
Vince is hoping he can now continue to improve on his first class average of 25.83 from 37 matches.
'I've seen him grow - on and off the field - and he's maturing, he's on the brink of becoming a very good opening batsman,' the captain declared.
Vince believes he has a 'well balanced' squad. 'There's good options from a seam point of view, and we have two of the best spinners in the country in Liam Dawson and Mason Crane,' he told The News.
'We all know what Kyle Abbott can do and Mohammad Abbas was outstanding when he was at Leicestershire.
'I'm sure the thought of those two with the new ball in April will put some fear into opening batsmen.
'Those two will be vitally important, but we'll need the other two seamers to be equally important as well.
Brad Wheal has had a few rough years but he's back bowling well.'
Like many counties, and in the absence of overseas players, Hampshire used the 2020 Willis Trophy to give chances to youngsters.
Scott Currie, Tom Scriven and Ajeet Dale were all handed a first class debut while batsman Harry Came, since released, played four of the five games after having only appeared once before that.
Felix Organ, 21, was also one of six ever-presents alongside Sam Northeast, Tom Alsop, Lewis McManus, Holland and Weatherley.
It will be a much more experienced XI this summer with Vince, Liam Dawson, Abbott and Abbas providing an international quality backbone. If Hampshire qualify for Division 1, they will look to bring Abbas back for the business end of the summer.
In 2020 Vince didn't play a single Willis Trophy tie, while Dawson suffered an Achilles injury during his only visit to the crease during the tournament against Middlesex at Arundel.
'We obviously hope Abbo (Abbott) stays fit and there's senior players like Sam Northeast and myself in the middle order with some younger batters in the mix,' said Vince.
'It was good last season to play some different people - Scott Currie and Tom Scriven did reasonably well and Mason (Crane) was given some more belief that he could do well in red ball cricket again.'
Hampshire have been placed in a tough Championship qualifying group which also includes Surrey and Somerset. Only the top two qualify for September's four Division 1 games which will see the top two progress to the Bob Willis Trophy final at Lord's.
Hampshire have only won the Championship twice, in 1961 and 1973, and have only finished runners-up on another four occasions since they first appeared in the division in 1895.
With that in mind, a third-placed finish in 2019 was a major achievement.
Asked if a top two group B finish was the aim, Vince replied: 'There's no doubt about it, that's the goal.
'Rod (Bransgrove, chairman), everyone at the club, is desperate to achieve that (a Championship success).
'When Adi (Birrell, coach) came in we did want to make some progress in red ball cricket, and we made a good start,' recalled Vince of a 2019 season which saw Abbott take 71 Championship wickets and Hampshire beat champions Essex (by an innings) and runners-up Somerset.
'We were really excited about last year - we had Nathan Lyon coming across and we'd had a relatively good year before.
'This year we're in a similar position. We need to keep testing ourselves to see how good we are, and keep making improvements.
'We don't want to be a team that has half-decent seasons.
'We want to do what Essex have done - the ultimate goal is to be competitive every year in four-day cricket.'
Hampshire have not had much in the way of pre-season preparations. A two-day friendly with Northants was hit by the weather, though most players got amongst the runs and wickets in the second two-dayer against Sussex last week.
Holland (65 retired), Alsop (69, Vince (55 retired) and McManus (55 retired) all reached half-centuries on the opening day while Dawson hit 48.
'It was encouraging to see,' said Vince. 'It was an important day - had some of the batters not spent much time in the middle there would naturally be some anxiousness going into the first game.
'You could tell the sun had been on the wicket a bit. It was the same wicket we used against Northants, and they were tough conditions for batters.
'Hopefully they will carry that on and give us some momentum.'
The fixture list offers that chance with Hampshire's first three games against Leicestershire, Gloucestershire and Middlesex prior to facing Surrey and Somerset, arguably the two counties most likely to be challenging for a top two slot.
'I don't think there will be any easy games,' said Vince.
'Middlesex have some very experienced players and they have probably under-achieved for a few years.
We haven't played Leicestershire or Gloucestershire for a number of years so there's an element of the unknown there, but it will be nice to play against different opposition.'