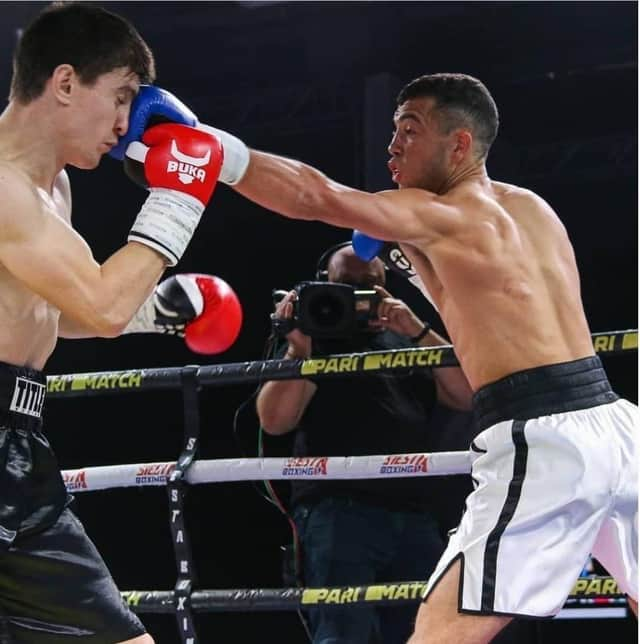 Lucas Ballingall
The Pompey fighter came out victorious over Bosnian Nermin Pozderovic inside 30 seconds in the Italian capital after catching his opponent with a heavy body shot.
But Balligall, 24, was annoyed he was unable to showcase his capabilities over a longer distance having made the jump up to super-lightweight.
He had lost both his previous bouts in the build-up to his debut at the new weight, but extended his record to 14-2 thanks to his Rome victory.
Yet Ballingall was left 'gutted' his opponent did not put up more of a fight having made the trip out to Italy. He said: 'I'm a bit disappointed with the opponent, to be honest. I wanted to put on a performance and showcase my skills.
'It is what it is, I landed a nice body shot and he didn't want to know after that - the fight lasted something like 20 seconds.
'I literally came out there, I was sticking the jab out, he was wide open for the body shot so I whipped in a left hook to the body and straight after that he didn't want to know. I went in for a few more shots and he didn't want to know.
'I'm gutted, to be honest, I'm thankful I've got this Pompey fight because if I didn't have this Pompey fight and I'd done all this training to blast him out in 20 seconds, I would have been quite upset.'
Ballingall says making the step up to super-lightweight provided him with plenty of additional power.
And he now has a quick turnaround prior to getting back in the ring for a hometown show at South Parade Pier on October 23.
Ballingall said: 'I got back in there in front of a little crowd, done the business, got back to winning ways and it's good preparation for the 23rd (October). Hopefully I'll get a tougher opponent and have a good fight on the pier.
'I sapped a lot of my power out dropping down to lightweight. I felt strong (in Rome) - I did a before photo for my weigh-in for my last fight and the one on Saturday night - the difference of it is mad - I look ao much healthier, stronger and better before my fight on Saturday night.
'I definitely felt better in there as well - I felt great. Obviously 20 seconds I couldn't show anything I'd been working on or show the difference but I definitely felt strong.'