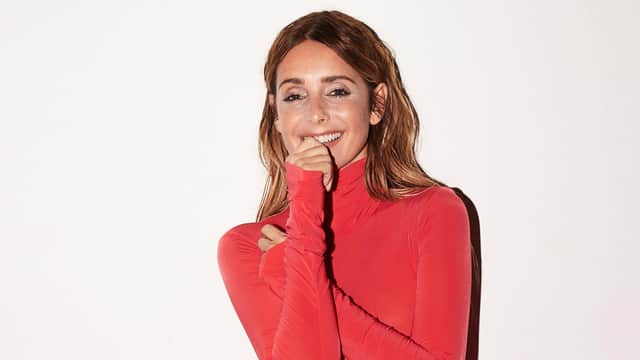 Popstar Louise is at The 1865 in Southampton on March 12
But this year she's returned her focus to her own music for the first time in many years.
In January she released Heavy Love, her first album since 2000's Elbow Beach, and now she's taking it out on tour.
She is combining it with a run in the Dolly Parton musical, 9 to 5, in the West End, where she plays Violet Plumstead, the role taken by Lily Tomlin in the hit 1980 film.
When Louise spoke with The Guide she was under the weather with a cough on a show day, but in true theatrical style, the show did go on.
'It's been really good,' says Louise of being in the musical. 'Really hard work, but the audience is always great and really up for it. I've been doing it for a while now, so it's nice to get comfortable in something and we've got a great cast, so I can't complain.'
When we spoke it was just before the album was due out – it hit number 11 in the charts on its release – and Louise was understandably apprehensive.
'It's obviously scary because you don't know how people are going to take it, whether people are going to enjoy it. All you can do is put it out there and see what happens.
'It's scary, but it's also kind of exciting too. I'm so happy with the album, I'm looking forward to people hearing it. It's a strong album and I think that it will resonate with a lot of people.
'The style of music has changed and things have moved on, so I would say it's a very live sounding album, and it's got a bit more funk on it, it's maybe a bit more upbeat than the other albums.'
A lot has changed for Louise since her last album – Elbow Beach was named after where she and Jamie stayed on their honeymoon. The pair had two boys together, but were divorced in late 2017.
'I try not to think too much who I'm writing for. I think people can relate to different songs for different reasons, no matter what their age. I am aware that there's not going to be a ton of 18-year-olds listening to it because it's not going to be played where they're listening to music, and things like that.
'But when I'm writing music, I don't think of an age group or a bracket, I just write what I love, and I love great music.
'I like a bit of an old school sound, I like it to be real, I like the lyrics to be quite realistic and honest.'
And she adds that her experiences have naturally fed into the albums.
'It's very personal, but not in a negative way. As a songwriter, all you can do is write about how you're feeling.'
With 15 songs on the deluxe version, she says there were a lot more that didn't make the cut – this time.
'I think I've written about 50 songs all in all, so there's a lot of songs that people don't get to here – you just work with what's right for your album.
'The others don't go in the bin, it's about making the album sonically right as you move from song to song. They might get used at a later date, you might go back and work on them for something else.'
In late 2017 and early 2018, Louise made her live comeback, with her first shows in 15 years – the Intimate & Live tour was a sell-out success. And it's why she can't wait to get back out there.
'That couple of hours where I'm on stage is a moment of pure joy and excitement. It's a place where I completely lose myself. It's where I get to enjoy what I do, and to bring to life what I do.
'And I love playing with a live band and singing live – I love the freedom of performing how I want to perform it.
'When you get to take an album on tour, that's where the magic happens.'​​​​​​​​​​​​​​​​​​​​​​​​​​​​
That tour coincide with Louise signing a global publishing deal with Warner/Chapell Music, which set the wheels in motion for the new album. But she says she hadn't been consciously working towards a new album.
'It was down to timing and the opportunity. I signed publishing deal and I started writing again, and then on the back of that the album deal came.
'It wasn't something that was in a big masterplan, the opportunities just seem to come along.'
Ever since she came to fame with Eternal, Louise and her private life have been of constant interest to the tabloids.
It's something she has learned to accept, albeit with a weary note of resignation.
'That part of my life has always been there, and it just comes with the job, I suppose.'
Around the time she returned to music, her marriage to former England footballer Redknapp was coming to an end – they were divorced at the end of 2017 after 19 years together.
It was what their two boys might read in the press about their parents that she found most troubling.
'It's hard because they're older and they see everything, but they understand and I think they know that you can't believe everything that you read, and things are often misconstrued.
'We have a very open relationship, we chat, and I'm very honest with them. If there's something I think they need to know, then they'll be the first to know.
'It's chicken and egg a little bit – sometimes things go out [in the press] and it's great and you need to promote something or sell your record.
'Then other times I get more personal things come out and they're not quite right, and my kids know very much that they only have to ask me to get the truth.
'To be honest they mostly let it go over their heads now!
'Not so much now, but when things were at their height and at their worst, it could be quite quite hurtful. I think people sometimes forget that there are real people involved in all of this and it can be hurtful for the people around you too - not just you who's in the entertainment world.'
Louise promises to perform a career-spanning set, including songs from Always and Forever – the four-times platinum debut by Eternal.
'The tour's going to have a few Eternal songs on it, that album was such a big album, I feel it wouldn't be right not to include a few of them.'
Is she still in touch with any of the rest of the group at all?
'Yeah, I saw Kéllé [Bryan] the other day. She came to see 9 to 5 when we were in Liverpool with her kids, and we went out and had lunch and it was lovely.'
Any chance there might perform together again?
'Never say never, it's all about timing and what everyone's up to.
'I've always said I'd love to sing with them again, but we'll have to see what happens.'