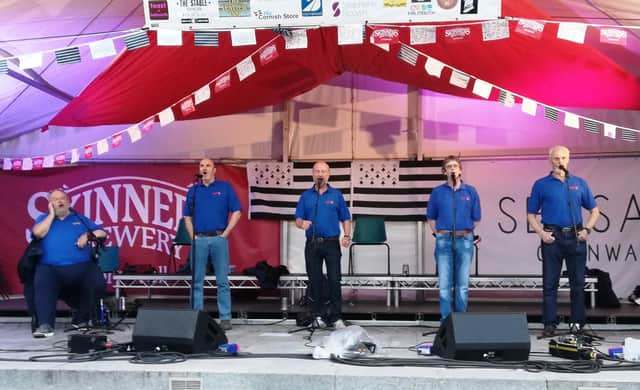 The Portsmouth Shantymen performing on Falmouth main stage 2019
On December 27 last year, Nathan Evans, a postman from near Glasgow, posted his version of the shanty, The Wellerman on the social media video site, TikTok.
Thanks to the capricious whims of the internet, his video was soon being viewed, redone and incorporated by thousands of other users.
The site allows people to add their own vocals – a part of the DNA of sea shanties, a capella work songs which were first sung en masse by ships' crews.
Nathan's original, identified as ground zero for the craze, has been viewed more than 1m times but by last week, videos with the hastag #seashanty had been viewed more than 1.6bn times. They have appeared on national TV and radio, American talkshows, popped up on other social media platforms, celebrities have been weighing in with their versions, and music streaming giant Spotify says that more than 12,000 playlists have been created on the theme since the end of December.
It even looks like propelling Bristol a capella folk group The Longest Johns into the singles chart – their version of Wellerman, originally on an album released in 2018, was at 33 in this week's mid-week charts.
And Nathan himself has been signed up and released his version through major label Universal yesterday – complete with dance remix.
Shanties are, in short, having a bit of a moment.
Chris Ricketts performing live in 2019. Picture by Steve Spurgin
But there are those whose love of a sea shanty or a sea song goes back further than a month.
Chris Ricketts has released several albums of sea shanties and songs. Last year's Songs in The Key of Sea was his first in seven years.
After releasing his first, Port of Escape in 2011, he had the launch gig at The Wedgewood Rooms and the very next day went away to sea, albeit as a cruise ship entertainer rather than being pressed into service.
Shep Woolley, second from left, with the 'Ansome Cabin Buoys.
Chris explains how he first got into shanties.
'I went to university in Newcastle and we had to discover songs that were from where we came from.
'I didn't really want to do that, so I was kind of rebelling against this task. I thought, how can I find songs that are where I'm from, but have had more widespread global impact? And I went with the shanty, being from Portsmouth it seemed quite apt.
He laughs: 'It was my way of getting around just singing songs from Hampshire which is what they wanted me to do.'
Cornish sea shanty singers The Fisherman's Friends
It was that sense of community and working together that attracted Chris, and he thinks that's contributed to their current popularity.
'The shanties are about all working together and being part of the same team.
'This is good for the tradition, good for the song form and it's more about what the song's meaning are and working together and bringing the community together. I think that's what's really being portrayed within this TikTok craze.'
In the meantime, Chris is happy that shanties are getting another day in the sun.
'Shanties to me have been a support mechanism for so many years, and a love and a passion of mine, for other people to be able to share that now is really quite nice to see.
'But you would never have anticipated or expected this to happen – but that's the power of song and what it's capable of. When Gary Barlow's recording a version of The Wellerman you know that's something's going on.'
The Portsmouth Shantymen performing at Wickham Festival, 2017.
Chris, a teacher by trade, hopes restrictions will lift later this year so he can finally do some gigs to promote his latest album.
Portsmouth is also home to the long-running shanty group, the eponymous Shantymen, who formed in the late 1970s to satisfy a request for a shanty group to perform at The Christchurch Folk Festival.
Pete Luscombe has been part of the line-up since the early 1980s and says of the current craze: 'A friend of mine in the US was talking to me about it, and then I saw it all over the UK press so I thought this was a good time to remind people we exist!
'Our origin was from the folk scene in Portsmouth, so we were singers first.
'It would be more accurate to say we're a harmony group which sings sea songs and shanties, it may be a small distinction, but it matters to us!
'We were probably one of the earliest groups in the UK to use harmonies properly.'
The Portsmouth Shantymen became regulars at festivals around the UK, and abroad. As Pete puts it: 'This is a hobby, a hobby that on a good day more-or-less paid for itself.'
In 2001 they completed a mini-tour of New Hampshire in the US, including a date in their Portsmouth.
'They were so friendly and we did come back with things like CDs of songs that are perhaps not so well known over here. That was a very productive trip in a lot of ways.'
Some of those songs found their way in to the group's repertoire. As veterans of the shanty world, Pete says there has been a steady increase in the form's popularity over recent years, even before this latest explosion.
'Although to the outside world it appears to have suddenly taken off, in actual fact, the number of relatively new groups has been going up in the UK for a couple of years and it's perhaps reaching a take-off point. There are acts all along the south coast.
'There is an impression for a lot of people that shanty singing is just a load of blokes with a beer in their hands bellowing away at the top of their voices, not necessarily very tunefully, which is a bit unfair. I have heard plenty like that, though I must admit...'
Shep Woolley, the popular folk performer and entertainer does a sell-out show of sea songs and shanties with the 'Ansome Cabin Buoys at The Square Tower in Old Portsmouth on October 21 for Trafalgar Day each year (pandemic notwithstanding).
'I think it's really good and the youngsters of today who are in the folk world are much more able to get into it,' says Shep.
'The youngsters in my day – I'm 76 now – rock'n'roll got in the way of learning traditional tunes. You had to go to a traditional school like Winchester or something to get them stuck into you, but all of those things which go back in history, people are embracing them a lot more now.'
Hear Chris Ricketts here.
Check out the Portsmouth Shantymen here.
A BRIEF HISTORY OF THE SEA SHANTY
The exact origins of sea shanties is something scholars have long-debated.
But they are generally agreed to have flourished in the first half of the 19th century – a period of relative peace, and that they were work songs to accompany physical labour on boats. They are described as being ubiquitous among crews on American and British packet and clipper ships.
While an English language song form, the word 'shanty' is thought to derive from the French verb 'chanter' – to sing. They typically featured a call-and-response format and a catchy chorus.
They are distinct from the songs sailors sang in their leisure time, or those with maritime themes, which are known as 'sea songs', although this distinction is often lost or fudged.
As steam-powered ships took over, the shanty cased to have a practical function and began to die out.
But, they have had periodic revivals with collections like Cecil Sharp's, English Folk-Chanteys (1914) and Stan Hugill's Shanties from the Seven Seas (1961), proving crucial in bringing them to new audiences.
Many folk performers have also performed or adapted the songs down the decades.
While associations with pirates are believed to be largely anachronistic, during filming for The Pirates of The Caribbean, star Johnny Depp reportedly got into sea shanties, helping produce a star-studded 2006 double-album Rogue's Gallery: Pirate Ballads, Sea Songs and Chanteys, which included performances by Sting, Bono, Nick Cave, Richard Thompson, Lou Reed, Eliza Carthy, Lucinda Williams and many more.
THE CORNISH GROUP WHICH HELPED BRING SEA SHANTIES TO THE MASSES
Before the current craze, The group Fisherman's Friends had arguably done more than any other to popularise the form.
Starting in 1995, they performed locally to their home town Port Isaac in Cornwall. But in 2009 Radio Two DJ Johnny Walker came across their CDs while on holiday. His manager Ian Brown subsequently negotiated a £1m contract for them with Universal Music.
The resulting album, Port Isaac's Fisherman's Friends, made it into the top 10 albums chart and sold more than 100,000 copies.
They have continued to be festival mainstays, even appearing on Glastonbury's Pyramid Stage.
In 2019, their story became the inspiration for a British romcom film, also called Fisherman's Friends, featuring cameos from all of the group's members.
A message from the Editor, Mark Waldron
The News is more reliant than ever on you taking out a digital subscription to support our journalism.
You can subscribe here for unlimited access to Portsmouth news online - as well as our new Puzzles section.