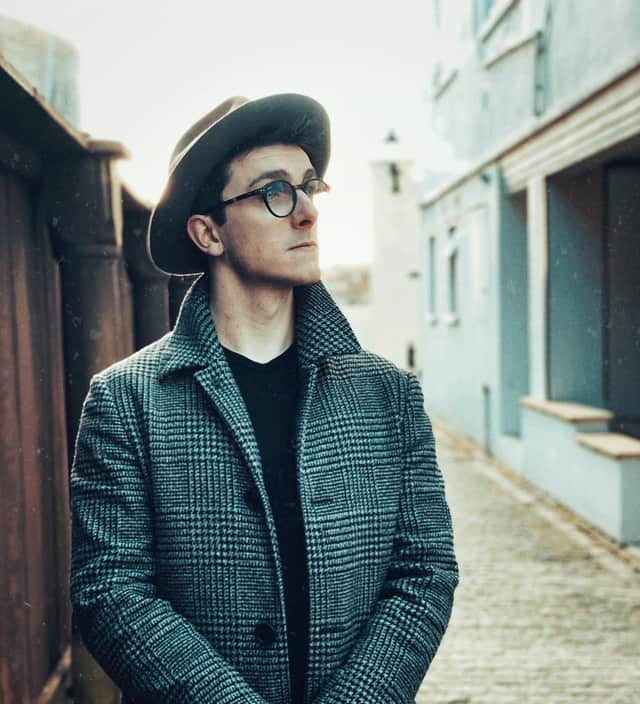 James Tattington is Fugitive Orchestra. Picture by Matthew Harrison
Jumping out of bed that Sunday morning, James Tattington, who is the titular one-man orchestra, found the song almost fully-formed.
It became At The Races is an acerbic reflection on the past year – inspired by Covid-era politics and liberally borrowing some lyrics from Priti Patel's now-infamous press conference where she forgot how numbers work.
The Portsmouth-based artist recalls: 'It's 100 per cent true. I leapt out of bed, and said to my other half: "I'm going to need an hour, I'm just going to grab a coffee and hopefully write a song".
'Most of the song happened there and then.'
The song sees James continue to dabble in political songwriting in his own inimitable way, with loop-driven guitars, beatboxing and a sizable does of funk – a path he began on 2019 single, Tomahawk Caress.
'It's been about learning to trust my own voice and learning to trust about the things that grab your attention as a compassionate person in the world.
'There was a once a time where I admired musicians and songwriters who write about political matters, but I always said to myself, I would never be brave enough to take that stance because you're potentially dividing your audience.
'It's been a process for me over the past couple of years, of well, this is my voice, this is my worldview, and fundamentally, with At The Races, and the stance it takes, this is the way things should be, and unfortunately, conversely, this is the way things are. Maybe we should do something about that, maybe we should have a discussion about that and the mistakes that have been made on the taxpayers' dime.
'Maybe not everyone is going to agree with me, and that's okay. That's the nature of discourse on politics.'
Over the past year, James has been a passionate adopter of online streaming shows – racking up more than 100 since the first lockdown began last March. He started on Facebook, but moved to livestreaming platform Twitch, as he was looknig for somewhere 'that is perhaps a little more on the side of the creatives, rather than Universal Music Group or whatever.
'It's been a really interesting journey – there's a really lovely community of people on there, both in terms of viewership and other musicians and livestreamers. It's been interesting getting to know the ecosystem there and meeting with and conversing with people about all kinds of random stuff.'
So James has been doing Weird Wednesdays, 'an hour of improvisational stuff', and a more conventional show on Fridays. Recently he's added the occasional Monday show too.
'Sometimes it's not exactly throw-away, but I might listen back to the Wednesday sessions and think it's silly and entertaining for me and hopefully for the audience, but I don't think there's any songwriting prowess being showcased here.
'But there are other times when I might listen back to a session and think, there's a song there – I've accidentally started writing a new song, it's given me the bones of something.
'It's all been a really worthwhile thing, and it's given me a sense of normality in a very abnormal year.
'There was an awkward adjustment period where I was thinking: "That webcam's not really giving me much feedback", but, for me, it was really worth sticking at, and I'm really grateful there's a community of people out there who've watched.'
Over the past couple of years James has been collaborating with producer Dan Bierton, aka Diamondback Kid, and he will be performing both as the opening solo act, and as part of Dan's South Coast Ghosts collective at Tommy Brown's headline show at The Gaiety Bar in Southsea on May 21.
Dan produced At The Races and James is working with him on more material.
'We've worked on some tracks together and I sent him a reimagining of this older song of mine, slightly more jazzed up version, and he said, I think we should get Tommy Brown to do a verse on this.
'It's a song about the night Tommy Cooper died – I became fascinated by that whole thing where he had a heart attack on stage and everyone thought it was part of the act. In his final moments he brought so much joy, and what does that say about the human spirit and all of that?
'There's a couple of other songs I had in the pipeline, which I've had the chance to workshop in a live environment, and I feel pretty confident about those as well.
'I feel very lucky that I've had this time to work on original material and I'm excited to share more songs.'
James is also playing an outdoor show at River Studios, Totton, with Ricky Tart and March on April 30.
Tickets for Tommy Brown, South Coast Ghosts and Fugitive Orchestra at The Gaiety Bar gig, go to book.events.
A message from the Editor, Mark Waldron
You can subscribe here for unlimited access to our online coverage, including Pompey, with 70 per cent fewer adverts for less than 20p a day.