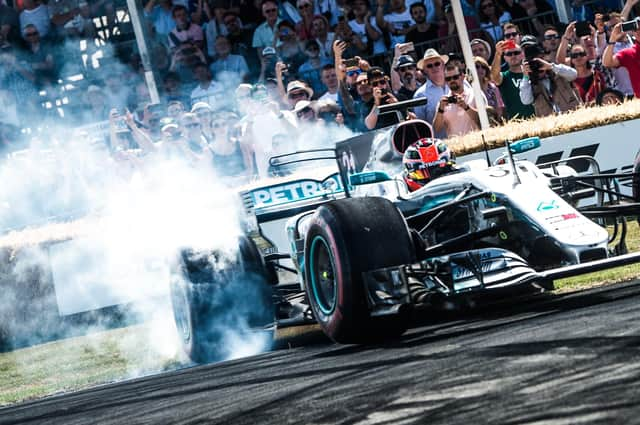 Goodwood Festival of Speed is back in 2021
More excitingly, the vital element that was so very much missed last year – the fans – will finally be welcomed back to Goodwood to enjoy some thrilling action and wheel-to-wheel racing.
Read on to find out what's happening this year and discover how you can be involved.
The confirmed dates for the Goodwood motorsport events are:
Goodwood Festival of Speed
Festival of Speed presented by Mastercard: 8-11 July 2021
Goodwood Revival: 17-19 September 2021
78th Members' Meeting: 16-17 October 2021
The Festival of Speed is the world's greatest celebration of motorsport and car culture. Held in the beautiful parkland surrounding Goodwood House, it's motorsport's ultimate summer garden party and an intoxicating celebration of the world's most glamorous sport. Nowhere else will you get so close to the cars and bikes as they blast up the Goodwood hill; nowhere else will you enjoy such unrestricted access to the machines and the drivers who made them famous.
This year's theme of "The Maestros – Motorsports Great All-Rounders" is Goodwood's salute to those in the automotive world, not just drivers and riders, but teams and manufacturers, who never allowed themselves to be bound to any one discipline through their careers.
Not only will the famous Hillclimb take place throughout all four days, fans will see the return of smoking drift cars, the adrenaline-fuelled Goodwood Action Sports Arena and some famous faces who'll also be attending this summer. Get your autograph books and selfie sticks ready!
Goodwood's technology and innovation pavilion – Future Lab – will be bigger and better than ever before. Packed with interactive content to inspire everyone from experienced industry audiences to younger attendees, it will give you a glimpse into the future of the automotive world, as well as many other aspects of life too.
Goodwood Revival17-19 September 2021
Recreating the glamour of motor racing as it used to be, the Motor Circuit comes alive for the Goodwood Revival, both on and off the historic track. The only historic race meeting to be staged entirely in period dress, the Revival sees a return of vintage fashion and the spiritual home of British motor racing.
The Revival always attracts the finest in historic motor racing talent - and a host of famous faces from the motorsport world and beyond.This year will be no different and further driver announcements will be confirmed later this summer.
Goodwood Members' Meeting
In addition to the usual comradery, some rather big changes are being planned for the Revival. Be sure to keep up-to-date by visiting goodwood.com/revival and signing up to receive event updates in order to be told first about our 2021 event changes.
Members' Meeting16-17 October 2021
Members' Meeting is an epic weekend of motor racing and high-speed track demonstrations, featuring all kinds of cars from classic tin-tops and GTs, to motorcycles and open wheeled Formula 3 and F1 machines. Packed with crowd-pleasing action, including popular races like the S.F. Edge Trophy for Edwardian leviathans, and the Gerry Marshall Trophy for Group 1 touring cars of the 1970s and early '80s.
The much-anticipated new Rally Sprint will also go ahead as planned, and promises to be even more dramatic thanks to the earlier darkness in October. This means the cars and drivers will face a full night stage.
The Saturday evening will be super special with the day's activities climaxing with unmissable entertainment that includes an incredible firework display that brings together the Goodwood community. There will be an abundance of fabulous food and drink, fun-packed festivities such as ferret racing and duck herding and, best of all, numbers are limited so there are no crowds.
Only Goodwood Road Racing Club members and those who are part of the Fellowship are able to purchase tickets for the Members' Meeting. However, the good news is that you can join the GRRC Fellowship and enjoy a whole host of year-round Goodwood benefits. These include guest passes to visit Goodwood's Members-only Clubhouse, The Kennels, online documentaries, a Fellowship badge and exclusive competitions.
Goodwood Members' Meeting
Although we all remain positive that things will look a little more normal by the summer, the team at Goodwood are working hard to ensure the events remain safe and enjoyable for all visitors.
We are continuing to work with Public Health England and UK Government advisory groups. And as the COVID restrictions evolve, all appropriate guidelines will be followed.
TicketsTickets and packages for all three motorsport events are now on sale and visitors can book with confidence with Goodwood's ticket guarantee. Availability is already limited across all three events and tickets priced from £44 can be purchased at goodwood.com.To keep up-to-date with the latest event news and ticket availability, you can sign up to receive email updates at goodwood.com/motorsport.