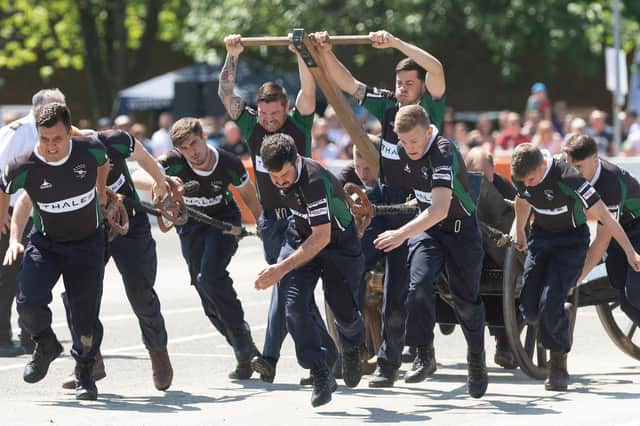 Action from the field gun competition in 2018
Having been cancelled for the past two years due to the pandemic, this year we are celebrating the Queen's Platinum Jubilee whilst commemorating the 40th anniversary of the Falklands War.
This unique family event, which showcases the Royal Navy and Royal Marines Charity (RNRMC) Field Gun Competition, will take place on July 2, a slightly later date due to other commitments in support of the Platinum Jubilee Celebrations.
There will be many fun-filled family attractions during the day, with entertainment and displays designed to capture the imagination of everyone, whilst giving an insight into HMS Collingwood, Defence Training, the Royal Navy and other Armed and Public Forces.
There will be Interactive Zones for hands-on activities and parts of the establishment will be open to visitors, allowing them to see the Royal Navy's training equipment and experience some training first-hand, including navigating a ship into harbour in our Warship Bridge Simulator.
The highlight for many will be the return of the RNRMC Field Gun Competition, which this year will feature 18 crews from across the UK and as far afield as Cyprus, competing for the coveted Brickwoods Trophy.
Teams of 18 are required to run, dismantle, reassemble and fire the field guns in the shortest possible time. Strength, stamina, and teamwork are essential in this challenge. There is much to play for this year as the last time the competition was held, it resulted in a draw between two crews – Portsmouth Naval Base and the Army's REME.
Gates open at 0930 and a free bus service will run throughout the day from Fareham and Gosport and back. Once the entrance fee is paid all entertainment and attractions are then free, including the fairground rides, axe-throwing and, for the younger of us, the Petting Zoo.
Captain Catherine Jordan, Commanding Officer of HMS Collingwood, said: 'I am looking forward to welcoming the public back to HMS Collingwood. It's a fantastic opportunity to showcase our Establishment and support our local community, and we are very excited for the return of the Field Gun competition, which always offers great entertainment.'
Advance tickets are available via the Royal Navy website (search "HMS Collingwood Open Day" online), or visit our Facebook page @HMSCollingwoodTrainingEstablishment or Twitter @HMS_Collingwood.