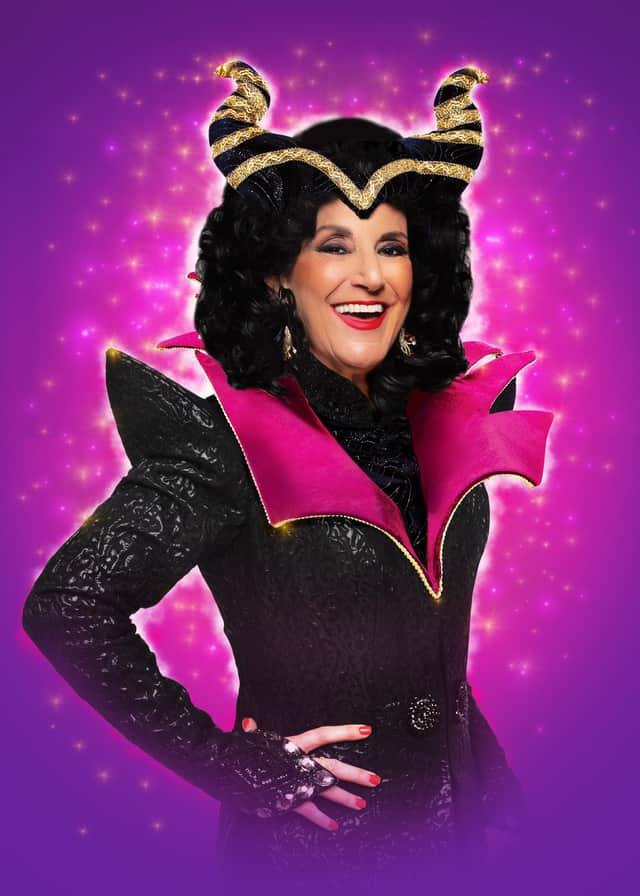 Lesley Joseph stars as Carabosse in Mayflower's 2020 pantomime, Sleeping Beauty
She was in pantomime at the venue over the Christmas 1994 period, playing Fairy Bow Bells in Dick Whittington, alongside such luminaries as Windsor Davis, John Nettles, Jeffrey Holland and Olympic athlete Kriss Akabusi.
It was at a curtain call for one of the performances that she was surprised by TV presenter Michael Aspel and the famous red book for her turn on the legendary show This Is Your Life.
That same run still holds the theatre's panto audience record – 126,256 people – and was the first year to break £1m at the box office.
This year though, things will be a little different when she joins the cast of Sleeping Beauty.
Lesley as the wicked Carabosse will be joined in the cast by Joe Pasquale as Muddles, Ceri Dupree as Queen Passionella, Sarah Earnshaw as The Enchantress and Georgia Carr in the total role.
This year's panto was originally going to be Cinderella, but that has now been pushed back to 2021.
The stars of Mayflower's 2020 pantomime, Sleeping Beauty. From left: Ceri Dupree, Joe Pasquale, Lesley Joseph, Neal Wright and Sarah Earnshaw
Sleeping Beauty was brought together as a Covid-safe replacement as the result of an initiative between The National Lottery and Qdos Entertainment.
Of course, Lesley is best known for playing man-eater Dorien Green in the massively popular sitcom Birds of a Feather. The show's original run was on the BBC from 1989 to '98 but it enjoyed a successful revival on ITV from 2014 to 2017 and is due to return again this month in a Christmas Eve special.
Filming wrapped a little while ago, but as Lesley tells The Guide, it took a bit of getting used to the new rules.
'All of the crew wore masks and visors and they were tested, people like make-up were tested, you were tested, so they were very, very careful with everyone because you are in quite close proximity.
Lesley Joseph with her Birds of a Feather co-stars, Pauline Quirke as Sharon and Linda Robson as Tracey . Picture by PA
'No-one came closer than two metres if they could help it, and it was fine. You sort of got used to it.
'Everything takes twice as long. Whenever you need to redo something, everyone has to leave the set and then they have to wipe things down - it's all constantly in motion, but it's a strange, brave new world out there, really.'
For the first time though Pauline Quirke, who plays Sharon, will not be joining her screen sister Linda Robson and Lesley as she has decided to focus instead on her acting academy.
'It was still true to the Birds spirit,' say Lesley. 'She was of course missed, but the way it's written she's referenced a lot so you didn't feel she wasn't there physically.
'You wait and see, it does work very well.
However, Les Dennis has joined the cast for the special.
'We were waiting for his results to come through,' recalls Lesley, 'so we had to rehearse in a mask and a visor and I have to wear glasses to read my script. Of course, they were constantly fogged up!
'The whole thing was absolutely ridiculous, but they insisted we did it like that until we got the all-clear and then we could take the masks and things off.'
Lesley is too much of a pro to reveal the plot, but she does say: 'It's just really funny, I can't tell you too much, but it's really funny and I think people will enjoy it.
'And I think people need a laugh by now. ITV are very pleased with it and it's turned out to be a really good episode.'
As well as Birds, Lesley has enjoyed numerous other TV roles and guest appearances, including a run in Strictly Come Dancing in 2016.
She is also a regular on the stage – playing Miss Hannigan in Annie, Mrs Meers in Thoroughly Modern Millie, and Chris in Calendar Girls among others. She was nominated for an Olivier Award for her 2018 turn in the West End as Frau Blucher in Young Frankenstein.
It has all helped her escape from the shadow of Dorien.
'I've done so many other things now,' she says of her most famous role. 'It's just a part, and sometimes if I'm doing something like panto I can still reference her, but usually I keep away from it.
'I think at the beginning people liked to confuse the two of us, but we're really nothing alike,' she laughs.
Lesley was last at Mayflower for the 2013 panto, Robinson Crusoe and The Caribbean Pirates, but this time there will be some changes.
'It will be lovely to do panto there again.
'It's going to be a different experience,' she acknowledges, 'but I think once you breathe deep and get used to it, people will love it because it will be like a bit of the old normal coming back.
'We have had to get used to a new normal, somehow you reach an acceptance. At the beginning it seemed very strange and very frightening and not something you can get your head around, but then suddenly that's what it is and therefore you get used to doing things in a certain way.
'I think that's how the panto will be.
'At the beginning it might seem very strange, and then a few pages in you'll think: "This is great, my goodness, we're back to this", and you'll accept what it is."
'You'll still get the music, you'll still get the lights and the sets and the costumes, you'll still get everything you would in a normal panto, it will just be slightly different.'
Like many other panto performers, Lesley loves getting the audience to boo at her.
'I love playing the baddies – much more than the goodies, it's much more fun to do.
'You can do comedy or you can do nasty, whereas if you're doing the fairy godmother or something it's only sweetness and light, and that's not really me!'
And aside from the obvious aspect of performing in a theatre under strict Covid regulations, there's a couple of other firsts in this show for Lesley.
'I've never done Sleeping Beauty before, I've never worked with Joe Pasquale before even though I've known him for years, and I've never worked with Ceri Dupree even though I've known him for years.
'That was a big plus for me, to work with two friends who I've never actually worked with before – that's going to be lovely.'
As a veteran of the form, Lesley's love of panto shows no signs of dimming: 'I love panto - I've done it for 30-odd years now. I take it quite seriously, it's not something I do lightly. You tell a story – they're fairy tales and you can throw all the magic into them, and you can take everybody on a wonderful journey.
'It's just really in Great Britain that we have it, no other country quite has them,' she draws a line through the Italian commedia dell'arte tradition to Marie Lloyd and music hall, 'it's developed on from there – audiences love it, having the fourth wall broken where they can speak to you and you can speak to them.
'You've got a real bond with the audience.'
She also hopes that if there a positive to come from the past year it is that people will appreciate the importance of the arts.
I' think people miss the theatre, it's such a unique experience. If you had no arts – if you had no TV, no Netflix, had no music, no radio, no books to read – the arts are so important in our lives. I think people have been rediscovering how much they miss theatre, actually.'
'I think people will just love being back in a theatre and seeing people back on a stage. I think it will give people a great relief.'
Sleeping Beauty runs at Mayflower Theatre, Southampton, from December 19 to January 3. Tickets cost £19.50-£34.50. Go to mayflower.org.uk.