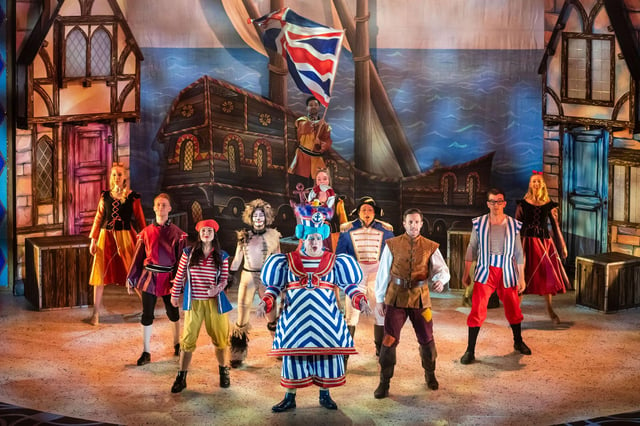 The ensemble in Dick Whittington at The Kings Theatre, Southsea, 2020. Picture by Andrew Searle
All of this is present and correct in Dick Whittington at The Kings Theatre in Southsea.
But what you don't necessarily expect is a genuine hit of emotion.
After a year where live entertainment has been among the industries hardest hit by the pandemic, to get any kind of show in front of an audience has been a major challenge.
Sean Smith as Dick Whittington and Billie-Leigh Roberts as Cat. Picture by Andrew Searle
Many theatres went dark in mid-March and have yet to reopen.
So when the cast come for their curtain call, to be met with a well-deserved and lengthy standing ovation, more than one of them looks very close to tears – tears of joy, no doubt – and relief.
Any panto is an ensemble affair, and with cast members often pulled from all over they don't always gel.
This year they're all local – this isn't subtitled The Pompey Panto for nothing – with many of them having known each other for years.
Julia Worsley as Queen Rat. Picture by Andrew Searle
And for once Jack Edwards doesn't get to steal the show as the dame, but it's not for want of trying. There's the marvellous array of outfits (once seen, the bikini in act two is unlikely to be forgotten), shameless mugging, and relentless picking on a poor fella called Clive in the front row.
But he's matched in the comedy stakes by James Percy as Silly Billy – the two make a very funny double-act.
The fact that the cast can't touch each other is a bit strange, but that of course becomes a running joke, with gags about social distancing throughout, and the romantic finale's 'kiss' is played for an effective laugh.
The ensemble of Dick Whittington at The Kings Theatre, Southsea, 2020. Picture by Andrew Searle
Sean Smith as Dick and Imogen Bailey as Alice make fine, charismatic leads – and Sean gets to show off the singing chops that got him to the X Factor final as half of Same Difference.
Julia Worsley's Queen Rat is a worthy villain – given a back story about being a faded child star seeking to regain the limelight, but let's face it, the finer points of the plot are incidental.
We all know Dick's going to end up Lord Mayor of London – but en route we get a storm-tossed sea voyage, a fight with a giant octopus and a boxing match/sword fight in a Moroccan palace.
Many panto productions, The Kings typically among them, are outsourced to a variety of companies who specialise in them.
The decision to produce their own this year for the first time was a gamble, but it's one that has paid off handsomely.
The production values remain high.
And it highlights the talent on our doorsteps – both on the stage and those front and backstage who make it all work.
Oh, and of course we still get The 12 Days of Christmas with its toilet rolls.
As the old cliche says: 'The show must go on', and it seems it will take more than a pandemic to stop the Pompey Panto.
It is the perfect slice of silly escapism for right now.