Fareham takeaway thanks its customers for their support during lockdown and urges people to keep buying fish and chips
AN INDEPENDENT fish and chip shop has thanked its customers for their support during lockdown – and has urged them to keep buying chips.
Wednesday, 24th February 2021, 3:28 pm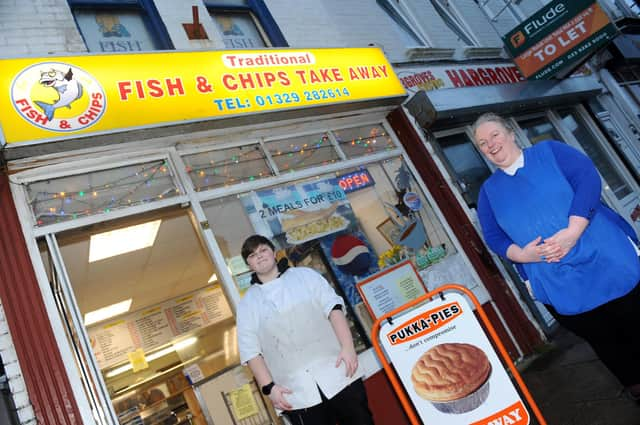 Freyah Tyrrell, fish and chip shop assistant with owner Rebecca Traynor. Picture: Sarah Standing (190221-3298)
Traditional Fish and Chips has been a fixture of West Street, Fareham, for nearly 100 years – opening in 1928.
The business was taken over by Rebecca Traynor, from Fareham, in January 2008.
Rebecca, 49, said: 'We still get a lot of customers coming in saying that they used to come in 60 years ago to get chips. We are the oldest chip shop in Fareham.'
Rebecca, who used to work for the NHS, said that despite times being tough over the past year due to the pandemic, she is grateful for the support shown by her loyal customers.
She said: 'We have remained open throughout all the lockdowns and followed all the rules and regulations of the government.
'Customers can phone or it's one person in at a time to order their food, they wait outside the shop and are called in when the food is cooked and bagged.
Owner Rebecca Traynor. Picture: Sarah Standing (190221-3306)
'The customer collects from the counter because a plastic shield is covering the counter.
'Anti-bac has always been used in the shop, just used more at the moment, and we started taking card payment from the first lockdown.'
Rebecca works in the shop with Jake Cushing 23, and Freyah Tyrrell, 21, both from Fareham.
She only works weekends after taking a step back due to a car accident, however she has assistance in the shop from Mike Hurley and Debbie Lamb.
Rebecca said the shop, which is open on reduced hours three hours each evening seven days a week, has been busy, but she urged people to keep showing their support.
'We were busy during the first lockdown,' she said.
'But steady during lockdown two and three as a lot of vulnerable customers are shielding so we have not seen them.
'The independent end of West Street towards the station is not as busy as it used to be.
'When we first opened we were the only takeaway at that end of Fareham now there is a few all wanting trade.
'We would like to say thank you to all the customers who have supported us though the lockdowns and we can't wait to welcome back old customers when we are out of lockdown.'
Over the years, the shop has supported Fareham and Gosport Basics Bank with food vouchers, given discount to NHS, fire, police and ambulance staff and raised an average of £100 a year for Stubbington Study Centre.
A message from the Editor, Mark Waldron
Thank you for reading this story.
Every subscription helps us continue providing trusted, local journalism.