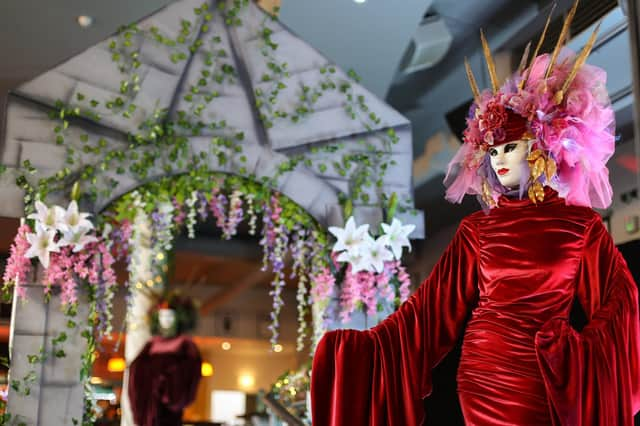 Daze Entertainment, based in Gosport
After almost a year of restrictions on social interaction due to the pandemic, Abi Wightman, owner of agency Daze Entertainment in Gosport says she can finally see the light at the end of the tunnel.
From glamorous events and corporate parties, to product launches and promotional campaigns, Daze Entertainment had established itself as a provider of visual and experiential entertainment, but in March 2020 everything came to a halt.
Abi said: 'Initially, we thought we were dealing with a handful of cancellations at a quiet time of the year, but then the entire calendar of events disappeared before our eyes and had to be refunded.
Daze Entertainment, based in Gosport
'Everything I'd worked for during the past 12 years just stopped. We all fell into a state of disbelief.
'I took some time out to come to terms with the situation and I found work using my language degree teaching English online to students around the world.'
Towards the end of 2020, Abi felt strong enough to return her full attention to her business, making plans for the future and in doing so, found a renewed enthusiasm.
Abi Wightman, owner of agency Daze Entertainment in Gosport
'I reviewed every single aspect of the business,' she said.
'I called on my team of advisors, web designer and long-serving performers for their input, and found a new motivation and purpose. It felt like I was starting the business again.'
Abi knew that the country had to open up at some point, so when Boris Johnson announced his roadmap to ease out of lockdown, Abi was ready and waiting.
And with a new plan for business, with new packages, Abi has seen a surge of enquiries.
'I'm quoting for a lot of shopping centres and retail businesses wanting to mark their reopening, hotel events that are being planned for the second half of 2021, and loads of private summer parties in gardens,' said Abi.
'I'm feeling hope and pride. Pride for the work I have done, the personal strength I've found and the fact that Daze Entertainment is still here, providing opportunities to hugely talented artists who, through no fault of their own, have really suffered over the past year.'
A message from the Editor, Mark Waldron
Thank you for reading this story.
Every subscription helps us continue providing trusted, local journalism.