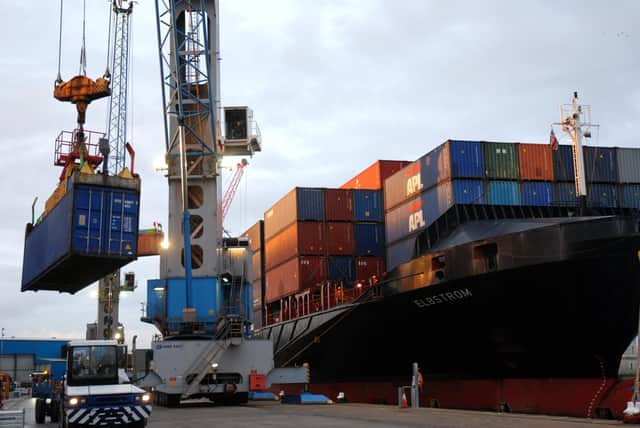 Portico, the international cargo terminal based at Portsmouth International Port, are helping some of the world's biggest shipping lines get their empty containers back to where they are needed most as Britain faces an export crisis to the EU.
Ross McNally, chief executive of the Hampshire Chamber of Commerce which supports hundreds of local firms, demanded top-level action from the government to fix 'border disruption' which is bogging down export trade with the European Union.
In a fresh warning to Downing Street, Mr McNally said sluggish customs declarations were threatening future deals with the continent and that a 'long-term' strategy was urgently needed to overcome the border woes.
His comments came as figures showed UK export trade was in a crisis, having slumped massively in January – the first month since the UK's ties with Brussels were severed.
Ross McNally, head of the Hampshire Chamber of Commerce.
Speaking to The News, Mr McNally said: 'Brexit has ushered in a host of new customs declarations requirements affecting not only trade with the EU but also between Great Britain and Northern Ireland.
'For many exporters and importers, the extra work involved is time-consuming, and requires time for adjustment.
'To assist businesses, government must do all it can to reduce border disruption while supporting firms to adapt to the new documentation needed. It is clear many businesses stockpiled in the run up to the changes and this has affected the level of trade in January. This has been compounded by the Covid-19 lockdown.
'Our international trade team is now seeing a rise in the number of enquiries about cross-border trading arrangements since the transition from the EU and business does seem to be getting closer to normal levels.
'So, in some cases, the fall off and delays can be put down to initial teething problems, but it has become clear that longer-term border systems enhancements and easements would help.'
Official figures showed exports from the UK to the EU had plunged by 40.7 per cent in the first month since Brexit.
The slump has been branded the biggest monthly decline in British trade for more than 20 years, with exports of food and live animals being hit the hardest.
Last week, companies in Gosport had the chance to speak to experts from the Department for International Trade on how they can continue to build export opportunities internationally.
The online 'webinar' was set up by Caroline Dinenage, Gosport MP, who insisted there were plenty of chances to boost trade 'outside the EU'.
'This event showcased the benefits of exporting to the fullest and I'm enormously grateful to businesses in Gosport and our trade experts for coming along,' she said.
'With 90 per cent of global economic growth in the next 10 to 15 years expected to be generated outside the EU, we want to see businesses best placed to make the most of this.
'Although I understand exporting jobs account for around 11 per cent of total employment in the Gosport constituency, we want to boost opportunities and see that go even further.'
A message from the Editor, Mark Waldron
The News is more reliant than ever on you taking out a digital subscription to support our journalism.
You can subscribe here for unlimited access to Portsmouth news online - as well as our new Puzzles section.