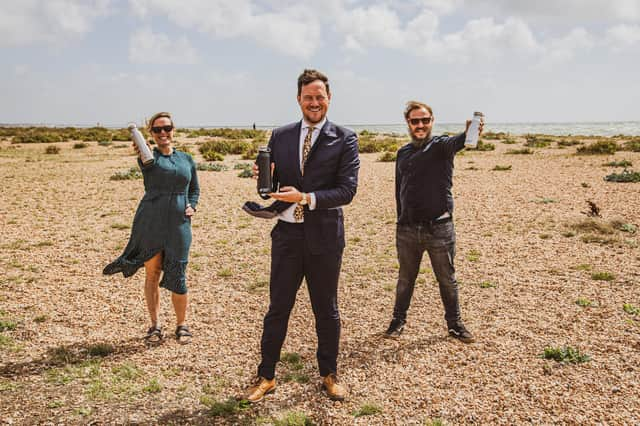 Thomas Ellis and Alex Cuppleditch, from Squidmoo, with Portsmouth South MP Stephen Morgan
Two recent independent studies have highlighted Portsmouth as a prosperous place to set up business.
Research from finance firm Capital on Tap, which studied active records from Companies House, found 375,670 new businesses were registered in the UK – with 1,970 in this area – since lockdown began on March 23.
Despite the challenging conditions brought about by the pandemic, in Portsmouth 887 companies were listed, 461 in Havant, 442 in Fareham and 180 in Gosport.
David Luck, CEO of Capital on Tap, said: 'The disruption caused by the coronavirus pandemic has had a significant impact on people, businesses, and the global economy, so it's inspiring to see so many entrepreneurs backing themselves and seizing the opportunity to start their own businesses.'
He said remote working and an increase in online platforms such as Etsy, Amazon and Uber Eats, has allowed people to turn their passions into small businesses.
Meanwhile, Instant Offices' latest Entrepreneurial Index ranked Portsmouth as the most entrepreneurial city in 2020 for its high concentration of entrepreneurial activity.
Squidmoo, a Southsea start-up
Its research, which also looked at Companies House data but did not discount inactive firms and included all business codes registered, found that 672,890 new companies launched in the UK from October 1 until September 30.
Of these, 6,924 were in PO postcodes, meaning an increase in year-on-year entrepreneurial activity of 33 per cent, beating London's comparative 31 per cent.
John Williams, head of marketing at Instant Offices, said: 'Despite the uncertainty caused by the pandemic, we could see a record number of new companies launching as entrepreneurs emerge across the country. The onset and spread of the pandemic have had a massive impact on the growth of entrepreneurship in the country, with many new businesses having to pivot to survive during the crisis.'
Rebecca Lodge, who runs Startup Disruptors, which looks after hundreds of businesses across the region, said the figures did not surprise her.
She said: 'When we started five years ago, the offering was pretty woeful. Look what we have achieved in just a few years. Every successful city needs an eco system – and we have built it.'
The news was also welcomed by Portsmouth City Council's cabinet member for culture, leisure and economic development Steve Pitt.
He said: 'This is great news to receive, and I'm not surprised.
Samson Ibitoye has launched Provide a Meal in Portsmouth
'The people of Portsmouth have always been particularly resilient and creative and as a city we have been working hard to nurture and encourage that entrepreneurial spirit.
'Our economic growth team helps support new businesses at every turn, by finding them space in the city to work or trade, putting on free start-up sessions, match-funding new business ideas through our Crowdfunder UK partnership, and helping with grants at this difficult trading time.
'We are particularly proud of our partnership with the Shaping Portsmouth family and our joint work on Future Together, making sure that we are supporting businesses and individuals to not just survive but thrive.
'You could be the next Portsmouth success story. If you've got an idea for a new business, don't hesitate to get in touch with our team and get started.'
And this entrepreneurial trend shows no sign of abating, with a further survey revealing 40 per cent of people have considered starting a business in the last six months.
The survey of 1,000 people, which was conducted by Perrys Chartered Accountants, also revealed that nearly a third (31 per cent) would look to start a business in online retail, while 28 per cent would start a company offering professional services.
Samson Ibitoye has launched Provide a Meal in Portsmouth
Steve Hale, a partner at Perrys Chartered Accountants, called for more support for these business and said they had launched free tutorials to give people tips on how to make a success of their businesses.
He said: 'The UK is heavily reliant on SMEs and start-up businesses for income and employment. Their presence will be even more important now we've left the EU so it makes sense that there should be more investment in helping start-ups to get up and running in the best possible way from the outset.'
How the council has helped
Portsmouth City Council launched Crowdfund Portsmouth in January 2020, in partnership with Shaping Portsmouth to help increase start-ups and business growth.
In early March, it started a scheme called Pay It Forward to help businesses adversely affected by Covid-19. This scheme has attracted interest from 136 businesses and the council pledged £43,230 which raised a further £125,317, plus attracted additional funding from external sources of £35,500.
The council also owns and manages three business and enterprise centres offering offices, storage and light industrial units to start-up companies and small businesses.
There are currently 124 businesses across the centres – Victory Business Centre, Challenge Enterprise Centre and Portsmouth Enterprise Centre.
Through the council's dedicated business support line, which launched in March, 2,300 business and residents have been helped.
To get in touch call (023) 9284 1074.
Starting out in January, Thomas Ellis and Alex Cuppleditch could not predict the challenging times that lay ahead.
However the two plastic-free enthusiasts from Portsmouth were determined to reduce plastic consumption and their passion has seen the public respond well to their range of eco friendly products.
In August they successfully raised £16,130 with 142 supporters in 28 days with a mission to empower other Portsmouth businesses to go plastic free.
Portsmouth City Council's small business fund also provided £4,230 of funding, and Natwest provided £5,000, further boosting the business on their mission to see Portsmouth become a zero plastic city.
Alex said: 'This has been a very exciting six months. Our vision and dream is really starting to come together into a full business.'
She said they are currently launching a scheme called WAY UP, which gives 25 free reusable coffee cups to 10 Southsea businesses.
One business that started in the city on the back of the pandemic is Provide A Meal.
The web and mobile application was set up to provide food for people in need without handing out cash.
By bringing restaurants, charities and individuals together on one platform, the innovative application allows a donor to give a meal voucher (minimum £3) to beneficiaries who can take the voucher to any partner restaurant to claim a meal.
In June the company raised £4,300 with 53 supporters in 28 days and Crowdfund Portsmouth small business fund, run by Portsmouth City Council and Shaping Portsmouth, provided £2,000.
This funding was used to provide food parcels to vulnerable community members including refugees, elderly living alone and students with no support in Portsmouth.
They worked with their existing referrers, schools and other agencies to identify those that were most in need and supplied them with emergency food boxes.
Founder Samson Ibitoye said: 'Starting our business this year has been a very steep uphill journey for us. It was particularly tough because most of the partners organisations we work with were not allowed to operate. Our model brings a community of partner organisations together to help the community. The pandemic has challenged us to readjust our model to fit the current climate which we did but it is not exactly what we set out to achieve. We are very optimistic for 2021 but for now, we keep trying.'
A global pandemic has not held Hope Mckellar back.
The 23-year-old from Waterlooville set up PR firm Hope Mckellar PR in June after leaving her job at The News.
She now helps businesses in Portsmouth and throughout the UK promote themselves through the media, whether that's newspapers, radio, social media, magazines or television.
She has built up a good client base over the last six months, with stories published throughout the region.
Now she's looking to expand her services and has set up a training group to help small business owners on a smaller budget to learn how to do their own PR.
She said: 'People called me mad for starting and I wasn't sure if it would even work out at first with people cutting costs within their business on marketing etc, but it's been quite the opposite and people have been so supportive which is great. People have been more willing to invest in business services such as PR because they're keen to get the word out and generate business. It's growing month on month and I'm hoping it continues into 2021.'
A message from the Editor, Mark Waldron
The News is more reliant than ever on you taking out a digital subscription to support our journalism.