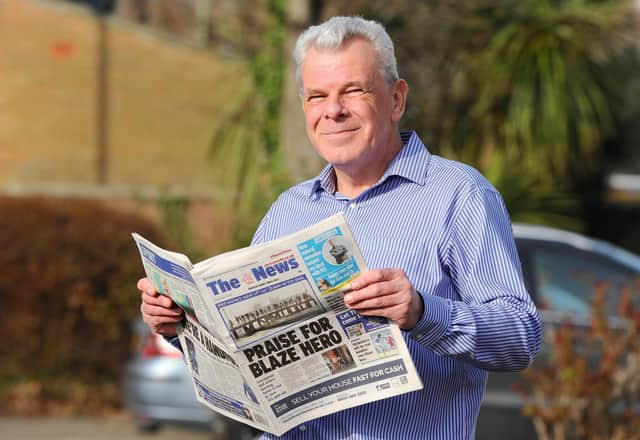 Ian Gribble (56) from Gosport. Picture: Sarah Standing (020321-1832)
Ian Gribble, from Gosport, is one of the founders of LinkedIn Local Portsmouth, one of the city's biggest business networking events.
The event, which Ian runs with co-founder Carl Hewitt, started from small beginnings in June 2018 as a way for people to meet their online connections in person.
By the time of its last meeting in March 2020, it regularly attracted hundreds of people to its events at the Village Hotel in Portsmouth, selling out tickets and proving a popular way for people to make business connections and to socialise.
Ian said that coverage in The News helped the event to grow, and said the newspaper's support was a shining example of what great collaboration can achieve.
He said: 'It gave the event another element. It was nice to be able to post the article on social media, it gave it credibility and prestige, and helped us to get the word out. It all comes back to great collaboration.
'Being in The News definitely raised awareness, people saw the articles and looked us up and bought tickets.
'They came to the events, which helped raise money for charity, at the same time as building a great network
'I loved being in The News. It represents the city and it is where people turn to to see what's going on.
'LinkedIn Local has that community aspect too. It was great to showcase what work was going on and what came off the back of the meetings and to share the stories.'
Since the pandemic struck, the meetings have been on hold, but the large amount of LinkedIn Local fans and followers have been eagerly awaiting news of its possible return.
Ian said: 'I resisted the urge to take the events online, as it is just not the same.
'It has been a challen ge for eve rybody, not just from a business point of view but from a personal one too.'
Now all eyes are back on to the event, as restrictions are set to ease with events allowed to return after June 21.
Ian said he was hoping to see LinkedIn Local return once things had settled down later this year.
'June 21 is the date we are all foc using on, ' he said.
'So we are hoping to hold a LinkedIn Local maybe in September. It would be so nice to get back to it again.'
We Love The News
The News has launched its We Love The News campaign to share some of the ways that our newspaper has touched the lives of our readers.
Whether that's by being featured, or promoting a good cause, or uncovering some wrongdoing, or just simply landing on your doormat every day, there are many ways in which The News plays a part in our readers' lives.
We hope to celebrate these stories - and by doing so remind everyone why buying a newspaper is such a wonderful thing to do.
If you would like to be featured, and shine a light on the ways The News has helped you, your cause, charity, campaign, or business, email [email protected]
A message from the Editor, Mark Waldron
The News is more reliant than ever on you taking out a digital subscription to support our journalism.