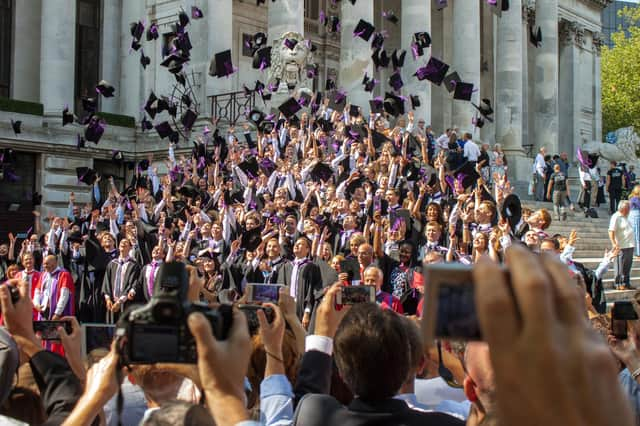 Fewer European students look set to graduate from the University of Portsmouth as post-Brexit applications from EU students has fallen by more than 50 per cent. Picture: Melanie Leininger (142225-18)
Serious questions also still remain regarding the continued funding of research projects previously supported by the EU.
A spokesman for the University of Portsmouth said: 'In common with universities across the UK, the University of Portsmouth has seen the number of applications from the EU fall by more than half for the next academic year (2021/22).
'This was expected because EU students can no longer access student loans for UK courses.'
To help mitigate the impact of Brexit for current EU students, the university has applied a transition scholarship so that eligible students continue to pay the same fees as those from the UK.
Exiting the EU means students from the UK wishing to study abroad, including as part of a UK course, are no longer entitled to money from the Erasmus Programme which supports EU students with the costs of living and studying abroad.
While the government has introduced the interim replacement Turing scheme, university officials remain concerned over a lack of clarity over the duration of the initiative.
The university spokesman added: 'We welcome the Turing scheme and we hope the government will confirm funding for the scheme beyond August 2022. 'This will address the uncertainty currently faced by those applying for university places about whether overseas study will be an option for them.'
Concerns also remain over the post-Brexit funding of scientific and medical research projects which could previously apply for EU money.
While an agreement over this funding has been reached as part of the recently signed trade deal, University of Portsmouth leaders remain anxious as they await for this money to materialise.
A spokesman said: 'The UK government agreed to be part of the EU Horizons research and innovation funding programme as part of the trade agreement signed in December 2020 but so far has provided no funding for this commitment.
'If the government does not commit additional funding to EU Horizons, it will have to cut existing research funding to pay for this. In effect, this will give the EU the power to allocate up to £1bn of UK research funding to universities across Europe, money that was previously allocated by the UK to UK universities only.'
A message from the Editor, Mark Waldron