Portsmouth community shows festive spirit with donations of trees and decorations to Milton Park Primary School
A PRIMARY School has been 'overwhelmed' after launching an appeal for a Christmas tree only to be given four by generous donors.
Thursday, 3rd December 2020, 1:02 pm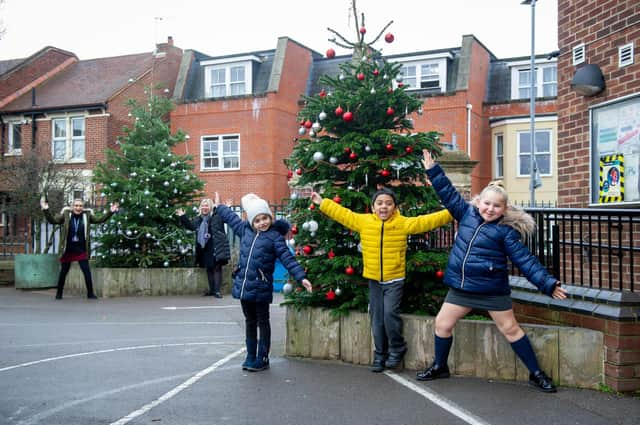 Emotional wellbeing support assistant Layla Gover and head teacher Wendy Fowler (back tree) with pupils Flavia Avram, Mohammed Hussain and Remi-Rae, all aged six. Picture: Habibur Rahman
Unable to host their annual Christmas fair along with the increased costs of mitigating Covid meant Milton Park Primary School could not afford to buy a festive tree and decorations for the children.
She said: 'It's been an amazing response. Within an hour of the article being published we were getting calls from people and local businesses wanting to donate.
Milton Park Primary School has received donations of four festive trees and decorations after launching its Christmas tree appeal. Picture: Habibur Rahman
'I've been blown away and really moved by the kindness shown by people in the local community. We now have three real trees on display outside and an artificial inside.'
The first donation came from Leaders Estate Agents in Southsea whose branch manager, Dave Sibley, arrived at the school with a 6ft tree.
Dave said: 'I had seen the article on Facebook and one of my weekend staff, Stephanie Hall, who works at the school, arranged for me deliver the tree. We've received more than 50 cards of thanks from the children which has been really nice.'
Milton Park Primary School staff member, Stephanie Hall, and Leaders Estate Agents Southsea branch manager, Dave Sibley.
The largest tree – a whopping 14ft – was donated by a man who would only give his name as Barry.
Layla said: 'He called the school and said he had a friend who was selling Christmas trees and to mention his name to the seller and he would cover the cost.'
A number of generous locals also came forward with donations of money and decorations.
Rob Rook, 71, donated £200 which was used to purchase a discounted 10ft tree from J West Christmas Tree Supplier along with lights and decorations.
One of Milton Park Primary School's four donated Christmas trees lit up at night.
He said: 'I'm a local guy and when I saw the story it really pulled at my heart strings. One of the best things in the world is to see happy, smiling faces of children and this is what inspired me to donate.'
After hearing the school had already received donations of trees, Milton resident Tara Flood, 50, decided to purchase brand new decorations to help bring the trees to life. Decorations have also been donated by Asda in Fratton.
Tara said: 'When I saw the children's faces in the story I just thought I needed to do something. I wanted to buy them new decorations and purchased them from a Milton store to support local businesses.
'I've received lots of thank-you cards, one of which said "Mrs Flood you're amazing".
Layla and other staff spent Monday night (November 30) erecting the trees and transforming the school into a festive wonderland.
Headteacher Wendy Fowler said: 'We've been overwhelmed by the amazing response we've had – so many lovely, kind and generous people who really have put such big smiles on everyone's faces.
'The children, staff and parents have all enjoyed the festive atmosphere that has been created by the arrival of the Christmas trees.'
After seeing the trees, Remi-Rai, six, said: 'I felt really happy and excited when I saw the trees. They're so big with lovely baubles.'
Classmate, Flavia Avram, also six, added: 'I was amazed to see the big trees. It was fun because my mum took a photo of me with them. I'm so happy.'
A message from the Editor, Mark Waldron
For Black Friday we've slashed the cost of a new subscription by 30 per cent - so you can get unlimited access to our coverage for as little as £1.40 a month.