15 photos that capture life in Portsmouth in the 1800s and early 1900s
There are some really interesting images here to enjoy. So much has changed in Portsmouth in the last century.
Wednesday, 14th April 2021, 4:14 pm
Updated
Wednesday, 14th April 2021, 9:39 pm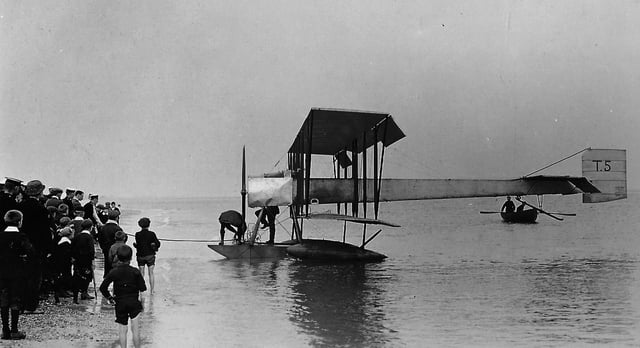 Hydroplane (seaplane) off Eastney beach 1919. Believe it or not, just 25 years after this photograph was taken there were jet aircraft flying the worlds skies. Picture: Barry Cox collection.
In this interesting selection you will see the unexpected view of a seaplane off Eastney beach in 1919, the old Mikado Cafe in Palmerston Road that was the largest cafe on the south coast and a lovely old shot of Postlethwaite's chemist that was in Fawcett Road.
There are also photos of the Savoy Cafe at the seafront in the 1920s, the Hippodrome Theatre in Commercial Road before it was damaged in the Blitz and a very quiet view of Cosham High Street in 1898.
Just like today, hospitals in the past were always appealing for money. At one time. Portsmouth supported three hospitals, St Marys, the Royal and Priorsdean for infectious diseases which was opposite St Marys in Milton Road. We also had the Portsmouth Eye and Ear Hospital. In this photograph many are dressed as clowns and minstrels and a local bus has been decorated to attract attention to the appeal. Can anyone put a date to it? Picture: Barry Cox
All images are from the Barry Cox collection.
You can subscribe here for unlimited access to our online coverage, including Pompey, for 27p a day.
The Mikado Cafe, Palmerston Road, Southsea. The interior of the largest cafe along the south coast. Can you remember visiting at anytime? Photo: Barry Cox collection.
When throat tablets were made on site. Postlethwaite's chemist at 131, Fawcett Road, Southsea. Picture: Barry Cox collection
Open-windowed butcher shop in Queen Street, Portsea. Picture: Barry Cox collection
The Southsea branch line platform at Fratton Station. Taken out of use in 1914.
The Savoy Buildings in the late 1920's. Picture: Barry Cox collection
A marvellous rarely scene view of the Hippodrome Theatre, Commercial Road, Portsmouth. Picture: Barry Cox collection
Looking across Southsea Common from Clarence Pier. Fantastic crowds walking along Pier Road in the 1920's. Photo: Barry Cox collection.
Cosham. This is a look up the High Street in 1898. Picture: Barry Cox collection
The last horse drawn tram in Portsmouth. Picture: Barry Cox collection
A 1940s' scene at the junction of Castle Road and St Edwards Road, Southsea. Picture: Barry Cox collection
S.A. Triggs, baker and pastry cook who's shop was located at 60, Wiltshire Street, Southsea. Picture: Barry Cox collection