21 historic images capturing Milton through the years
Quite a few of you from Portsmouth will remember some of these events and areas featured in this nostalgic gallery.
Tuesday, 23rd February 2021, 4:36 pm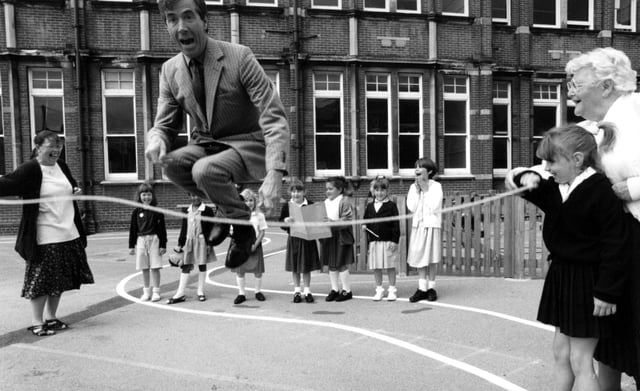 Former MP David Martin joins in playtime with children from Milton Park School. The News PP3773
Included in this collection are the old gates and entrance to St Mary's Hospital, inside the asylum at St James's, the devastation after Arnold's sweet shop took a direct hit from a bomb, members of the Gilbert family outside their shop selling ice cream and Kingston Prison, an aerial from the past.
You will also see a few school group shots from times gone by.
Cows at Milton Asylum Part of the cow herd belonging to what was then called Milton Asylum. Picture: Barry Cox postcard collection.
The main gate to St Mary's Hospital, Milton Road circa 1937
VE Day St James's Hospital, Milton Under shady trees to keep off the hot sun, staff and their children from St James's Hospital celebrate the peace with a party.
The Thatched house pub. Here we see the full frontage of the Thatched House pub at Milton Lock. Picture: Alan Cunningham collection
The wedding of Jimmy James and Winnie. He was the landlord of the Thatched House, Milton. Picture: Alan Cunningham collection
Milton Post Office. Does anyone have any knowledge of where this once was? Picture: Robert James collection
St James' Hospital in 1912. The News PP1464
Milton Locks, Portsmouth, July 1971
Do Your Bit week girls Girls parade along Chestnut Avenue, Milton in the Do Your Bit week 1941.
Can any of you date this picture of the Milton Locks area of Portsmouth?
The Old Oyster House at Milton Locks, Portsmouth. Undated
A cottage by Milton Lock An ideal summer location, a cottage alongside Milton Lock. Did you live here? Picture: Alan Cunningham collection
Here we see the result of a V1 landing in Milton at the junction of Locksway Road and Meryl Road. The postbox remains in situ to this day.
An undated picture, believed to show the Milton Locks area of Portsmouth, after the canal fell into disrepair in the middle of the 19th century. Picture: Paul Costen collection
Velder Creek, Milton in the 1930's, with gravel barges and a dredger.
What was left of Arnold's sweet shop his just seconds after Jon Cole had left it. This is all that remained of Arnold's sweet shop on the corner of Milton Road and Locksway Road after a direct hit. Jon Cole had left a few seconds previous. Has anyone got an image of the shop?
Kingston Prison, Milton, Portsmouth 1st February 1969, Kingston Prison Portsmouth which was to house long term prisoners. Aerial view taken by an Evening News staff photographer.
Ted Shrubsole's fruit and veg cart in Crofton Road We see in Crofton Road, Milton the horse and cart belonging to Arthur Edward Shrubsole. (Ted). He used to deliver all around the Milton area between 1935-55. Mrs Doreen Watts who loaned the photo remembers the horse walking along the street and stopping at each customers house. He knew the round better than Ted it seems. Unfortunately Ted had an illness and he used to walk doubled up, but it never stopped him working.
Gilberts sweet shop Brian Gilbert's parents Evelyn and George selling ice cream outside the shop in Eastney Road, Milton, about 1934.