A brief pictorial history of cycling in Portsmouth | Nostalgia
Today we are celebrating the bicycle which, since its invention, has played a key role in the personal transport needs for the people of flat Portsea Island.
Tuesday, 29th June 2021, 3:13 pm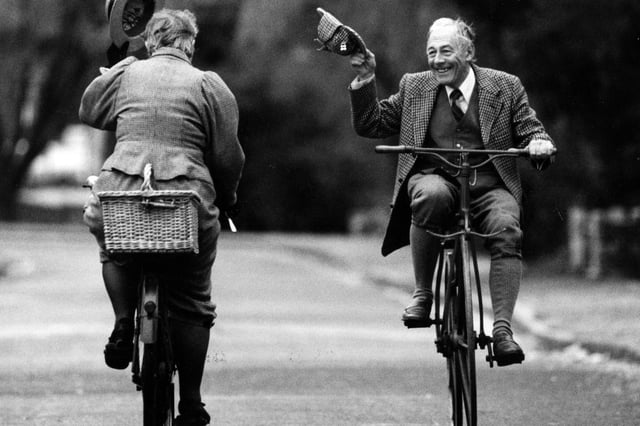 Mike Edwards, on an 1886 bone-shaker, greets Audrey Marks on her 1896 Humber at the start of the Solent Veteran Bicycle and Tricycle Club's Christmas outing at Hilsea Lido in December 1992. The News PP5530
To see the full collection of pictures, click here.
A message from the editor, Mark Waldron.
December 17, 1936: Two recruits at the Royal Navy barracks at Portsmouth, exercising on the new stationary cycles. Picture: Fox Photos/Getty Images.
Portsmouth postmen ready for their rounds in full dress uniform and accompanied by their trusty bicycles.
Pram tyres fitted while you wait! FM Seal Motor Depot, Cycle and Motor Accessories, believed to have been in Highland Road, Southsea.
Dockyardmen at an outmuster in the 1920s crossing tramlines at the Commercial Road/Edinburgh Road junction in Portsmouth.