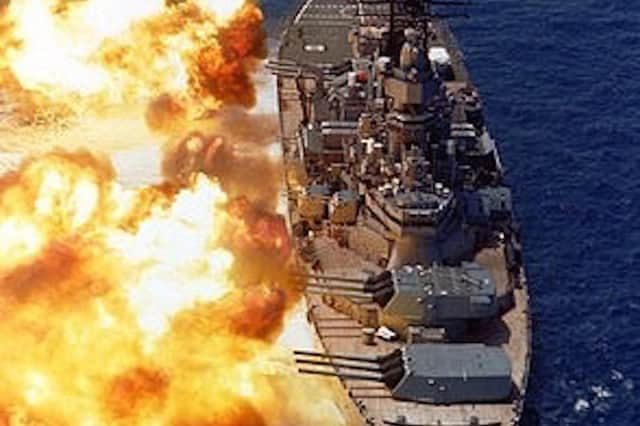 USS Iowa firing a practice broadside of all 9x16inch guns.
She was the last of the naval dinosaurs, with a menacing profile that had barely changed since she first went to war under the Stars and Stripes in 1943.
It was Independence Day, July 4, 1989, when I was invited on board the battleship USS Iowa which had arrived in Portsmouth the previous day to a tumultuous welcome.
Iowa was a time capsule from the bygone era when the battleship dominated war at sea, but the 'Big Stick', as the Yanks dubbed her, could still pack an awesome punch with much of her secondary armament having been replaced by the latest seaborne missiles to add to the nine 16-inch guns which once hurled a devastating broadside a record 26.9 miles.
Seen passing Point in 1989 is the American battleship USS Iowa. Picture: Graham Stevens.
But her visit was overshadowed by a disastrous explosion during a firing exercise only three months earlier that turned the centre gunroom in No2 turret into an instant crematorium for 47 enlisted men.
It had been decided to go ahead with Iowa's European commission and Nato exercises, although formal inquiries were on-going and officers were reluctant to discuss it, but some of the men inferred one of their shipmates had set off a device to commit suicide – a rumour later disproved when it was generally concluded that the blast had been due to an accidental over-ram of powder bags into the breech.
I was shown the turret which was still sealed off, but incredibly there was no external damage – a tribute to the 17.5 inches of armour in each of the 2,000-ton turrets.
From masthead to keel, a third of Iowa's 45,000 tons displacement was sheer maritime muscle, armour plate built to withstand the 18-inch guns of the Japanese battleship Yamato.
USS Iowa arrives for her 1986 visit to Portsmouth. Picture: Tim King
She was in Tokyo Bay for the Japanese surrender on board her sister ship USS Missouri on September 2, 1945, but just after her commissioning she had taken President Franklin D Roosevelt to Mers-el-Kabir in Morocco on the first stage of the journey to meet Winston Churchill and Josef Stalin at the Tehran Conference, where the Allied leaders discussed plans to step up the war against the Axis, including the invasion of Normandy.
My guide showed the special bath tub that had to be fitted before the ailing president boarded Iowa, where he soaked away his wartime worries.
'It had to be this specially made bath because he was too crippled to be able to stand in a shower,' he told me.
He revealed it was one of several modifications that had to be made to the battleship to accommodate the wheelchair-bound president.
USS Iowa arrives for her 1986 visit to Portsmouth. Picture: Tim King
They included an elevator on the starboard side, larger hatches added to the captain's cabin and an enclosed veranda.
'The bath was unique in the US Fleet, so it was installed with the utmost secrecy as it would have been easy for a spy to put two and two together.
'I guess this was one bath tub that never leaked!'
This relic remained on board for the rest of the war, then the Korean War and Iowa's subsequent commissions and today is a focus for the thousands of visitors to the leviathan, now preserved as a floating museum in Los Angeles as a memento to the fearsome breed that once ruled hostile oceans.
USS Iowa arrives for her 1986 visit to Portsmouth. Picture: Tim King
•She has 4,209,000 feet of welding, 1,135,000 rivets and it takes 179 tons of battleship grey to repaint her.•Each shell from the 16-inch guns weighed more than a Cadillac, would penetrate 26-inches of Class A armour at 10,000 yards and 16 inches at 28,200 yards. At 2,000 yards, it would blast through 36 feet of concrete.•She could launch eight radio-controlled planes with 100-mile radius to transmit fall of shot – forerunners of today's drones.•Her top speed was in excess of 33 knots, about 38mph.•All four of this battleship class have survived as museum ships. USS Missouri in Honolulu, Hawaii; USS New Jersey at Camden, New Jersey: USS Wisconsin at Norfolk, Virginia; USS Iowa at Los Angeles, California.
USS Iowa arrives for her 1986 visit to Portsmouth. Picture: Tim King
USS Iowa arrives in Portsmouth in 1986. Picture: Doug Barlow collection.