Head-on coach crash near Horndean | Nostalgia
In September 1976 two coaches collided causing the dramatic scenes shown in this photograph from The News.Although seven people attended hospital all the passengers and both drivers survived the incident.
Wednesday, 7th October 2020, 6:55 pm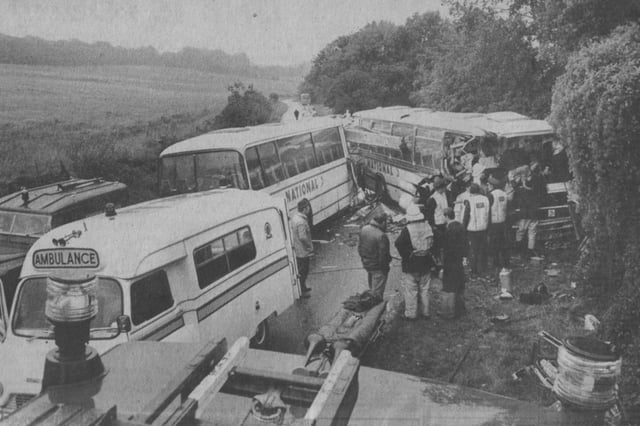 On Friday, September 22, 1976, two coaches collided in Lovedean Lane near Horndean. Picture: The News archive
One 49-seater coach was full of personnel returning to HMS Mercury, the naval signal station near Petersfield. The other coach was travelling empty on a reverse working from HMS Mercury.
The crash happened in Lovedean Lane, Horndean, near the Bird in Hand pub. One of the coaches was ripped open and four people were trapped in the front section of the other. One poor woman was thrown through a window and hit a tree.
The worst ordeal was that of the civilian driver of the full coach, John Young, 30, of New Road East, Landport, who was trapped in the wreckage for more than an hour. A large piece of wood pierced his thigh which could not be removed by firemen so he was taken to the Royal Hospital, Portsmouth, to have it removed.
In November 1976 this house in Kingston Crescent, Portsmouth, was so dangerous it had to be demolished. Picture: The News archive
Dr Alex Larson, the consultant in charge at the Royal's intensive care unit, said: 'We were impressed with the care patients were given before reaching the hospital. It was incredible how skilfully they had been treated.
'One ambulance driver had succeeded in setting up a drip and others managed to immobilise the leg of the man who had been impaled by the wreckage.'
Did children cause house to collapse?
A derelict house in Kingston Crescent, Portsmouth, was demolished in November 1976 after part of it collapsed. It was thought children had been playing inside.
Anyone remember the original Uncle Tom's Cabin pub along Havant Road, Cosham? Picture: Richard Boryer collection
Tons of masonry fell through the floors of the house which had been empty for many years, leaving it an empty shell. The house was from the late 19th century. As it could not be made safe the owners were contacted and the city engineers department demolished it.
Was the cabin your local?
Anyone recognise this pub that used to stand close to the kerb of Havant Road, Cosham, until the 1960s. It was eventually demolished and the road widened.
The pub was named after the famous 1852 anti-slavery novel by Harriet Beecher Stowe. A new pub was built retainingthe original name but set way back from the kerbside. This new pub closed in the 1990s and the building is now part of Cosham Baptist Church.