One of Gosport's railway stations is brought back to life | Nostalgia
Neil Marshall has executed another of his marvellous paintings and this one is of Gosport pre-1915.
Thursday, 29th April 2021, 2:52 pm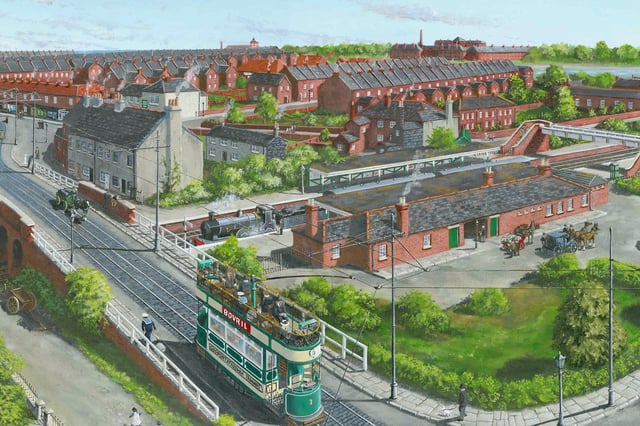 Gosport Road railway station, a painting by Neil Marshall.
It shows Gosport Road railway station which opened in 1865 and closed in 1915.
There are just a few photographs of this long-gone station and none of the main building, so the original plans have been used to portray this building accurately for the first time.
Here are some reference points in the painting to what remains today...
The charred remains of Hall's windmill at Waterlooville, June 1906. Picture: Paul Costen collection/costen.co.uk.
The main road shown is Stoke Road. On the left is Nicholson Memorial Hall. Just above this is now Stoke Gallery which was Cooper & Son Baker & Confectioner at the time recreated in the painting, which is about 1910.
The RAFA Club is partially visible behind the large building by the railway bridge. It was the Railway Arms at the time. Another pub, The Railway Tavern was along Station Approach and the rear of the remaining building (now private dwellings) can be seen above the smaller station building.
In the distance are Haslar Hospital and the Alverstoke House of Industry (workhouse) later to become Blakes Engineering.
n In June 1906 fire destroyed the windmill of timber merchant William Alfred Hall, of Mill Hill, on the edge of the village of Waterlooville.
The cover of Havant Grammar School 1958-1974.
Hall lived in Portland Road in the village and had previously moved his business to Mill Hill where he ran a steam mill producing timber.
The fire destroyed the timber frame of the upper section of the mill but it did not affect the business and Mr Hall was able to extend his timber business and traded for many more years.
There is not that much known of the mill although it is recorded on a map of 1865 as Purbrook Windmill.
I'd be grateful for any other information.
n Few records remain of Havant Grammar School but a worldwide quest by author Simon Bull has resulted in former pupils and staff contributing a variety of articles, photographs and other memorabilia which have been brought together in a book, helping to recreate a snapshot of school life from the late 1950s to the mid-1970s.
As I remember, to obtain entrance to a grammar school meant passing the Eleven Plus. I was in class 4B and sat the exam but had little chance of passing as part of it required working with logarithms, but logarithms were never taught to B-stream pupils in junior school so what chance did I have?
I had an excellent maths brain (one of the reasons I can play cribbage fast), and I thought it most unfair.
A message from the editor, Mark Waldron.
You can subscribe here for unlimited access to our online coverage, including Pompey, for 27p a day.